The ability to cross-open browsing tabs in other devices is a genius feature. Several times a day users switch between Android and PC. Sometimes one needs to open a running Chrome tab inside Android. However he isn't sure how to do it, therefore he ends up opening the same URL by typing it inside Android's Chrome browser. Contrary to this practice, let's learn how to sync Chrome tabs between devices such as Android and PC.
Send Chrome tabs to your Android Phone from PC or Laptop:
First things first, you need to use same Google ID with your Chrome browser in PC as well as Chrome browser in Android. Without using the same ID on both of your devices, you can't share, send or open tabs between those.
Attach Email account with Chrome Browser:
Launch Google Chrome on your PC/Laptop
Click on those three dots at the upper right corner of Chrome.
Click Settings and on the new page (chrome://settings/) click Sign-in, Enter your Google ID and login.
On the same page, go to Sync > Manage What you Sync and tick Sync Everything.
Similarly, login using the same attached ID on your Android Chrome browser.
How to Send open Chrome tab from PC to Android:
Here comes the real part, since you are logged in using the same ID on both of your devices, you'll see your device name once you right-click any tab. For example, I'm watching this YouTube stream and now I just want to watch it on my Android phone. I'll right-click on the open tab and click Send to TalkOfWeb's Android Phone. I'll make sure that browser in Android phone is open.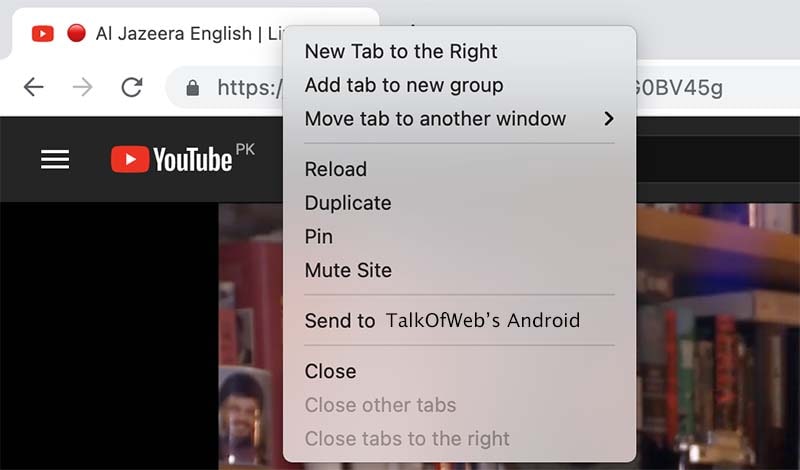 On the smartphone side, you'll be notified on top of the browser that a new tab is received. Press Open and you are good to go.
Send Chrome tabs to your PC or Laptop from Android:
Suppose you want to share open tabs on your Android smartphone with your PC. You can do that if Chrome Sync is active. In order to view open tabs on your Android phone inside your PC, follow these simple steps:
Open Chrome browser on your desktop.
Click on those three dots at the top-right corner and click History.
Click three horizontal lines at the top-left corner and click Tabs from other devices.
The next screen will show you the visited or active tabs of your Android device.
Through this procedure you can open tabs from your Android phone to your PC.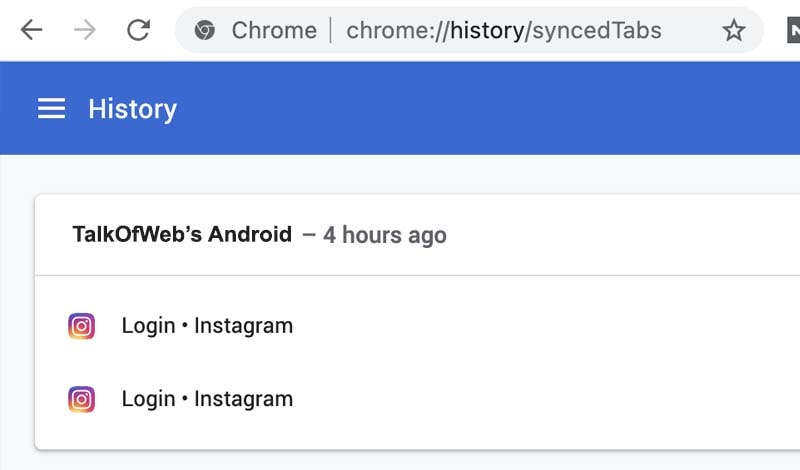 Conclusion:
As concluded, with this awesome Google Chrome sync feature, you can easily share your active tabs between devices. It's worth mentioning that the above tutorial is not only for Android but also for any smartphone. You can use it on iPhone as well. However, the iPhone has a separate handoff feature which is more worthwhile.