iPhone works with Airplay; a utility that allows you to share your smartphone's screen with an external display. Miracast on the other hand works with Android smartphones, a utility similar in nature to Airplay – HDMI over Wi-Fi. Devices certified with Miracast can send and receive their display with other certified devices.
Can we actually share iPhone's display with Miracast certified devices?
The answer is simple, yes. There are different possibilities and solutions which can let you share an iPhone screen with other devices like projectors, television etc. In the past, we've covered a few possibilities allowing your Mac to be used with a home LCD. Different options like using HDMI cable, Wi-Fi sharing and Network media sharing are discussed.
How to use iPhone's display on a Miracast supported device?
The answer is simple. We need to use third-party software. There are a few solutions available. We'll explore only those which matter.
1. Airserver
You need to enable/install Airserver on your big screen, laptop, smart tv, Toyota or BMW dashboard display unit. Basically, Airserver makes Miracast for iPhone possible. The supported platforms include Windows 10, Xbox, Android and Surface Hub etc.
Nowadays, smart TVs, car display units and other small gadgets use Android as an operating system. You can use Airserver on these devices to directly Airplay from an iPhone. The good thing about Airserver is that on iPhone you will not need any third-party application.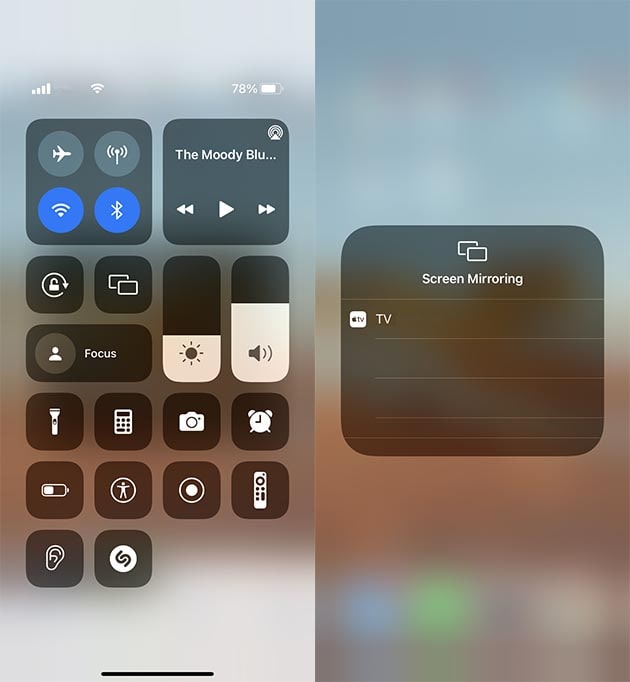 Airserver comes with a small price i-e $19.99, which based on its utility is nothing. There might be free alternatives available on Playstore for Android but Airserver offers a good working solution.
2. AirbeamTV
AirbeamTV lets you mirror the iPhone display on your Smart TV. It doesn't matter whether receiving device is Miracast compatible, as you only need AirbeamTV to convert it into an Airplay compatible device. The supported brands include Samsung, Sony, Panasonic, Philips etc. Mac and Windows is additional support.
Before you can mirror iPhone's or iPad's display to your TV; install AirbeamTV on your device. Once AirbeamTV is up and running on your iPhone or any other Apple's gadget. All you need is to select your device from the AirbeamTV app. AirbeamTV will mirror your iPhone's or iPad's screen to the receiving device, given that your Television is connected to the same Wi-Fi network.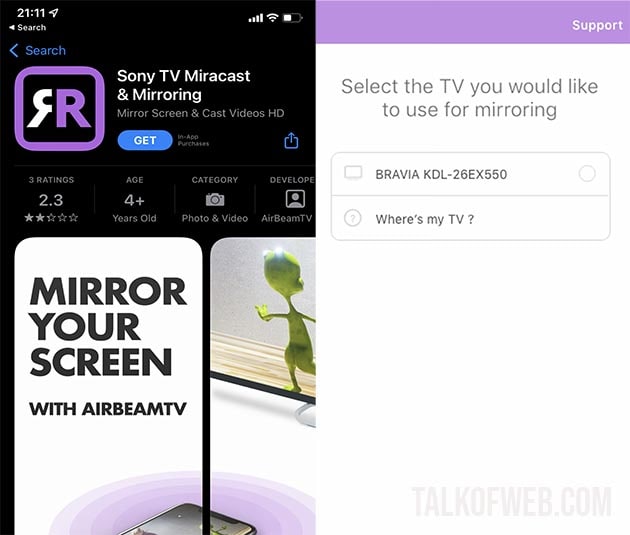 This app is basically free but for additional features, you'll need to make in-app purchases. The best thing about AirbeamTV is that it supports different televisions. You'll need to download specific app from Appstore for specific television brand.
Conclusion:
Miracast certified devices can work flawlessly with Apple devices. You can mirror your iPhone's or iPad's display on your SmartTV, as well as Android, supported devices. However, you need to use some third-party apps in order to make your device cross-compatible with airplay. With AirServer running on receiving device, your Apple device can mirror screen using Airplay. On the contrary, AirbeamTV runs on the host device and mirrors the screen to the receiving device through its own protocol. Both software have their own benefits and limitations.