I know it's quite hard to share mac screen without using apple's air play. But don't worry I've got a solution if you want to play movies and other stuff using your big LED or TV screen rather than the small screen of your Mac running over OSX. Previously, I had posted a solution about sharing your mac screen with the TV just for playing the videos but that was a lengthy one, the software which I had used in the previous tutorial was Vuze.
Connect Smart TV Display Wirelessly with MAC For Playing Videos
The above tutorials had a problem, that you have to access the video files shared with Vuze through the media server from the TV. But the way which I'll teach you today has no such thing like this, you'll just need to drag and drop the videos present in your MAC or iMac and that will play automatically in your TV. I'll give the example of a sony TV ( Sony Bravia TV Shared with MAC ) and will play some videos on TV using this method.
Read Also: Airplay on iPhone from Mac (Share your Videos/Music and Photos Wirelessly)
Wirelessly Play Videos through MAC on Your Large Screen TV:
1- You'll need to download Sofa Play software from the Application store. Just run the Appstore:


2- Click on "GET" Sofa Play Lite, since Sofa Play will be the paid version (If you want to get more features then just purchase this Application its worth giving a shot.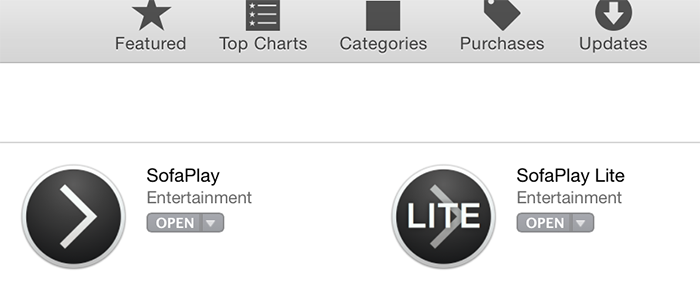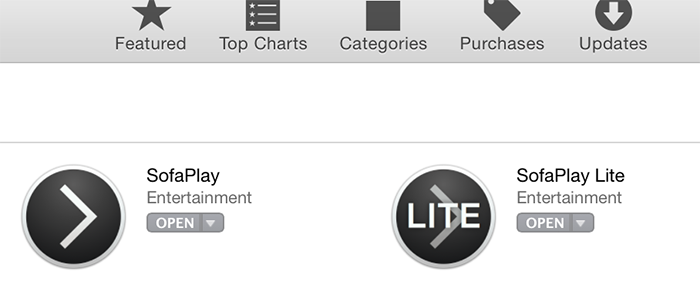 3- After downloading just open the application. It will search for television or LED TV present in your network. Make sure that you are not connected to any Proxy Networks while searching for the Television. You'll see your television inside the drop down once it completes it search and if there are more than one televisions present in your wifi network then it will show you more television networks.
4- Once Sofa Lite completes the search you'll see televisions connected to your wireless network in the drop down list. Select the TV and just drag and drop a video file in the window of the sofa lite.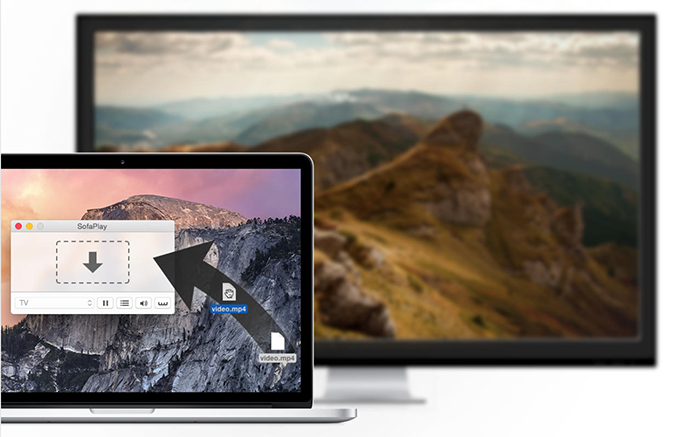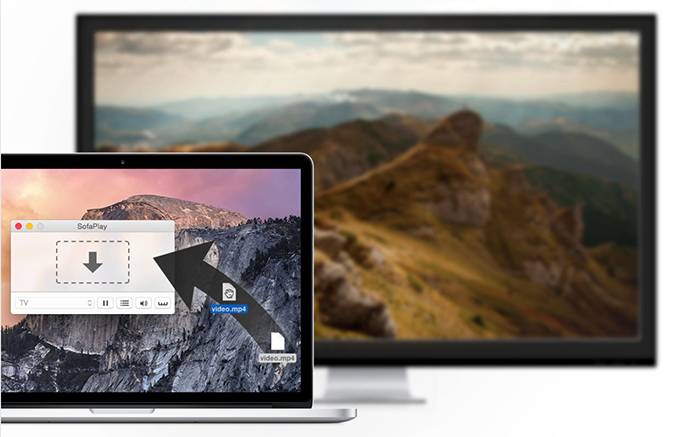 5- Once you drag and drop videos on the Sofa Play lite, it will automatically start playing on the Smart TV and even if it doesn't play then just drag and drop another video, this time it will work. In some TV's you'll need to go to the Media Player through pressing Home button (In case of the Sony TV) or by pressing media button present on the remote control. Thought, in most TV's you don't need to do much , just run this application (Note: Before running Sofa Lite make sure that your TV is connected to the Wi-Fi network and your Laptop is also connected to same Wi-Fi network) and drag and drop the videos after selecting the right TV.
Note: This way you can't mirror your exact screen of MAC on the Smart TV but instead you can play videos directly on your Smart TV and instead of enjoying media on the small screen of the laptop you will be able to enjoy things with family while using a MAC. Keep in mind that if the transfer rate of your Wi-Fi router is not good then the videos of HD quality will start to get interrupted while getting played.
Thus by just dragging and dropping you'll be able to play videos on your Smart TV.