Users often require to mirror Android to PC in order to view information on a single screen. We can also call it screen casting android phone to PC. However, the screencast term is more commonly used for mirroring smartphone to TV LED. Therefore, we'll use the term Mirror to let you learn: "How to mirror Android screen to a Windows 10 running PC".
Mirror Android Screen using Wi-Fi:
As we explored through different helping applications to accomplish android screen mirroring, we came across Alpha VNC Lite. It's a great application as it starts a VNC server on your Android smartphone. Let's learn how to mirror Android to PC using a VNC server.
Install VNC Viewer on your Windows 10 PC. We are using Real VNC.
Install Alpha VNC from Google Play Store. Launch it on your Android smartphone.
Connect your PC and Android smartphone to same Wi-Fi network/Router.
Run VNC Viewer on Windows and write the IP address shown inside Alpha VNC.
Press connect and make sure you have allowed your PC firewall and other checks.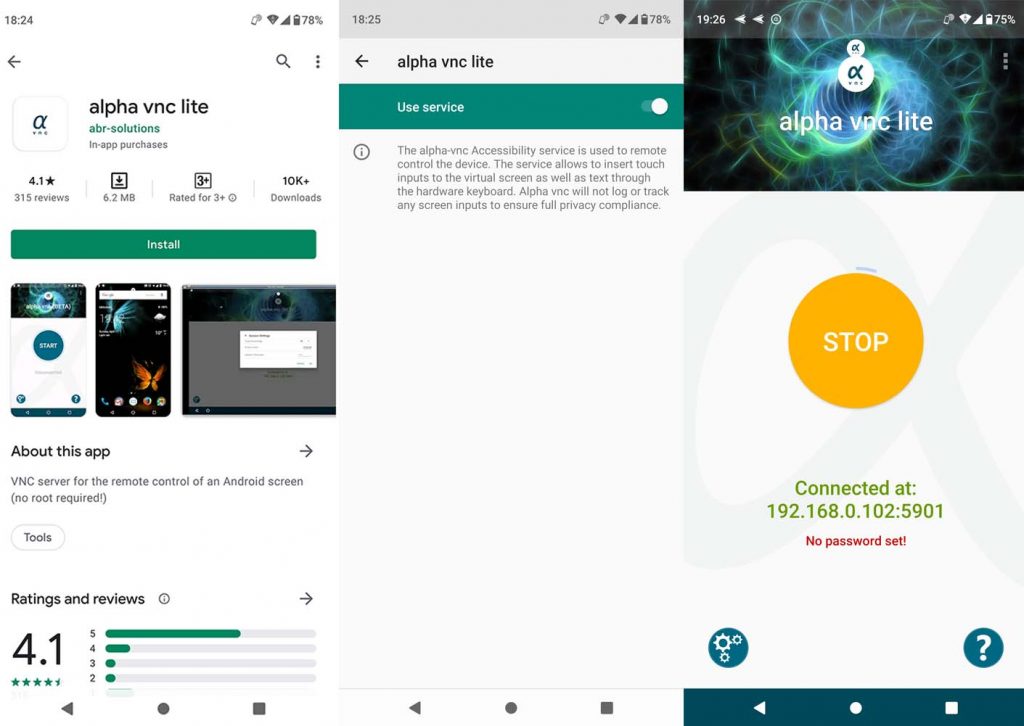 The plus point in using Alpha VNC is that you can also control your Android smartphone using PC. You can run Android applications, watch videos or do anything you like directly through your Windows 10 PC.
However, there is a drawback in using Alpha VNC. You need to pay for the Pro version to enjoy unlimited screen mirroring. The single license costs €7,49, which is a good price keeping in view the usability it offers. The free version of Alpha VNC allows 10 minutes of connectivity.
Mirror Android screen to PC for Free:
Alpha VNC has good mirroring quality. However, if you want to mirror Android to PC through the internet then use TeamViewer Host. It allows you to remotely control your Android device. Follow this procedure to use Team Viewer on Android:
Download and Install TeamViewer Host on your Android. Install additional application TeamViewer Add-On if asked.
Run TeamViewer Host and make sure to signup using your email address. After account creation login to the application.
Download TeamViewer for Windows 10, and run the application. Click Remote Management and login using your newly created account.
After a successful login, click Computers and Contact and look for your smartphone. In the Remote section press connect. This will start showing your Android screen inside your Windows 10 PC.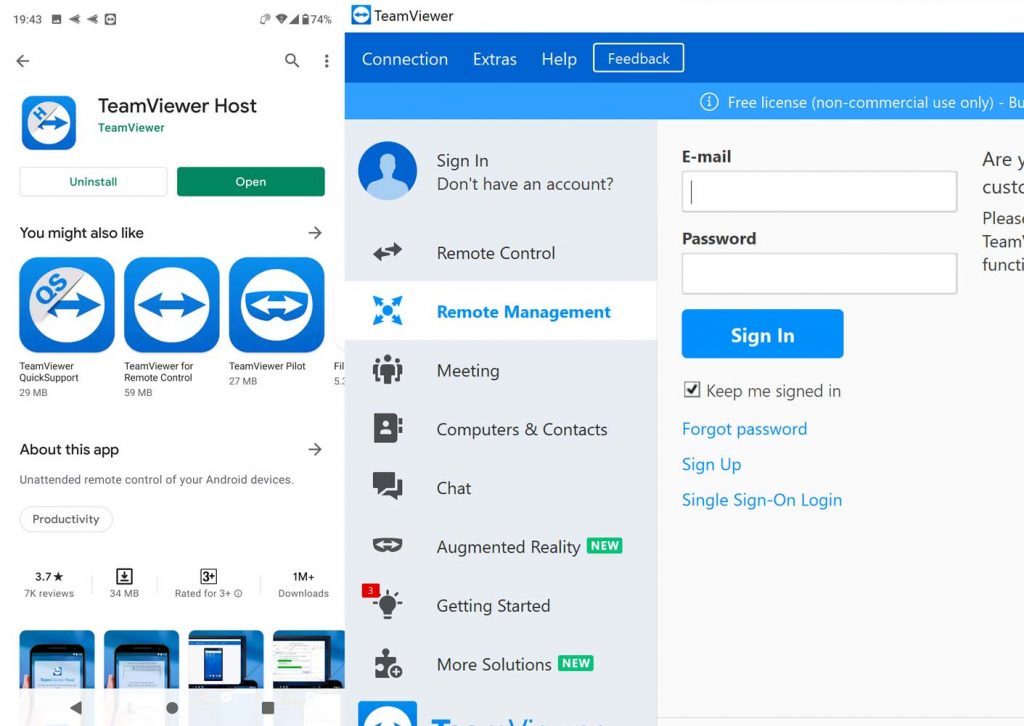 There is only one drawback with TeamViewer. Since the VNC is running through Internet, therefore, slow internet connection reduces the screen mirror quality and colors.
Additional Tip: Use AirDroid for a mirror only option:
If you don't want to control/send input to your Android screen through PC, then you can also use AirDroid. We've already covered AirDroid in detail. Once you are connected to AidDroid, click Mirroring and it'll start showing your smartphone's screen. However, you will not be able to control Android like Alpha VNC and TeamViewer Host.
Conclusion:
We discussed three options to mirror android to PC on Windows 10. Alpha VNC is a good option if you want to pay some money. Similarly, TeamViewer is an old and tested software which allows you remote access. On the other hand, AirDroid only lets you view your smartphone's screen in the browser. Choice is yours, we have found all the three methods working.