You have decided that you want to be the next Martin Scorsese and want to train up on movie making. In any case, whatever your aim is, best place to start for a beginner on Windows platform is its own movie making software, the Windows Movie Maker. With the help of Windows Movie Maker you can make home movies, business presentation and automated photo albums. This article will help the beginners get the ropes on Windows Movie Maker for Windows Vista/Seven as Windows 8 has a different interface for the movie maker and we will not be covering it.
First thing to do is to download Windows Movie Maker from Microsoft's Live Essentials webpage. Don't forget to download Windows Live Photo Gallery as well for importing the videos from your camcorder etc.
There are three steps to a movie making operation.
Importing the video media.
Editing the media for cropping, effects etc.
Publishing your movie.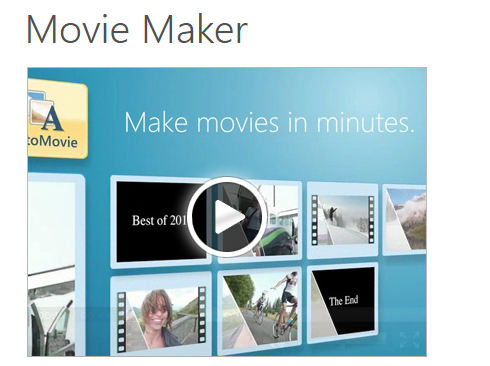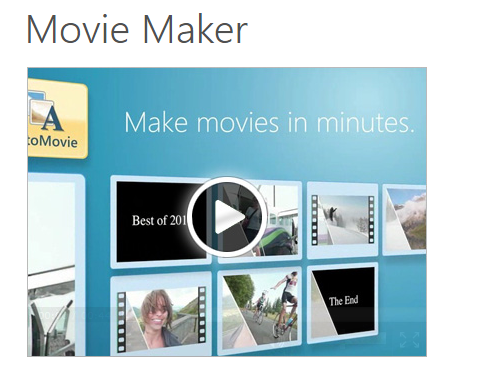 An important thing to note is that publishing movies can take a lot of hard drive space. Even a 15-20 minutes HD movie can take around 3 GB of space. You either create low resolution small videos or make sure that there is enough space on your hard drive where you are going to save the video.
Import videos, music and pictures to Windows Movie Maker
Plug in your Digital video recording device i.e. camcorder, smartphone etc. into your PC or laptop's USB port.  Now open Windows Live Photo Gallery which you must have downloaded, click on the file button and choose import. Next an explorer Windows will open, navigate to your device and select the videos you want to import for your movie.
Try to name the video accordingly with the event you are making the movie about like birthday, wedding or reunion etc.
There are three ways Windows 7 allows you to import the videos for your movie in Windows Movie Maker.
Choose the entire video. This automatically breaks the video into individual shots. You can easily remove the undesired segments out of the video at your convenience.
Choose specific parts of the video. The Windows Movie Maker will give you a playback and you can import the require segments as you go through the video. Click import from the portion you want to start importing and then stop when you want to. Repeat for all the shots you require for your movie and click finish when you are over.
Burn the entire video straight to DVD without importing and then editing. This pretty much nullifies the usage of Windows Movie Maker as you can easily these days right click on a video and select burn to disk.
While your computer is importing the video/s from your device, make sure it works smoothly without interruption on your behalf as importing video is quite a heavy task for the processor. Try not to multi task with too many other programs.
The video are imported by Windows into your Video Library Folder.
After you have done above steps through Windows Live Gallery, open up Windows Movie Maker now. You will find under the Home tab, two types of Add button.
One add button will have the windows symbol of pictures and videos. Click on it and then add the videos and pictures you want in your movie.
There is another add button for inserting any audio files and it is marked with a windows symbol for audio files.
There is also another add button for adding title, caption and credits to your movie.
After you have done above steps, the right hand side of the Windows Movie Maker will now be showing all the videos and audios needed for your movie project. Next step is to edit the video according to your vision.
Edit your movie in Windows Movie Maker
Basically now you can finish your movie project if you want without doing anything further. The movie maker will join together the video and audio clips, and the photos in the order you have selected them. A movie is now created and you can use the playback option of the Windows Movie Maker to preview your movie. (There is a blue triangle like button in the bottom for starting the playback)
If you want to add extra effects or do other things to your movie, you can do it in this step.
Add text: If you had added captions, title and credits, they will appear on the screen as empty black squares. Just click on any one and type in any information you had in mind.
Add visual effects: You can change the colors of your photos or videos with this option.
Alter the playback order: If you feel like any clip or photo is not in right place, just drag them in the right hand pane to the position you want. Next check the playback to see if it's the way you wanted it.
Trim clips: There is also an option present to trim some clip. Click on desired clip, then choose Edit from the menu and then Trim. A bar will appear on every end of the blue time. You can start trimming by sliding the rear bar to shorten the ending and a bar on the front to trim the beginning. After you have all the trimming, save it using save button.
Add animations: You might have used PowerPoint for making presentations. In it was an option to set how each slide will appear and there are different fashions for it. You can do just the same in Windows Movie Maker. The transitions as they are known can make each shot flow into the next in different ways. Click animations and then hover your mouse on one to see the preview of how it will work for the shot. If you find one to your fancy, add it to the movie by clicking on it.
Remove Shots: If you don't like a shot in your movie, simply right click and select remove.
Publish Your Movie through Windows Movie Maker
Congratulation! If you have reached this step then you are almost complete with you movie. Click on the sharing tab and different options will be presented to you. The program can upload or save the movie in the format of the option.
Standard Definition: You can use this option if you want your movie played on old TVs.
Wide-Screen (480p): You can use this option if you want your movie played on wide-screen TVs.
High-Definition (1080p): You can use this option if you want your movie played on high-definition TVs.
YouTube: You can use this option if you want your movie played on YouTube. You have to login to your account after clicking this option.
DVD: This option will create the movie in WMV format and hand it over to Windows DVD maker tool.
E-Mail or Instant Messaging: You can use this option if you want your low size movie sent through e-mail.
Mobile Phones and Portable Devices: You can use this option if you want your movie played on smartphones or other portable device.
Now that you have selected the option, chose a name and click on Save, Windows will start creating the movie on the hard drive in the destination folder of your choice. Do not panic if you feel like it's taking a long because it is supposed to in compressing everything into a single file.