If your iPhone is not working fine and a soft reboot isn't solving the problem then you must try out a hard restart. You must be wondering that what is the difference between a hard restart and a soft restart. Hard restart is like removing the battery of your smartphone, it reboots your smartphone by totally cutting the power supply. Therefore, a hard restart or hard reboot is important. Soft reboot on the contrary doesn't cut the power supply to your smartphone. It's like restarting your iPhone when it still has current in its motherboard.
Method to hard restart iPhone X, iPhone 11 and iPhone 12
Some people also call hard restart as force restart. They say so because when an iPhone is stuck then only hard reboot can help, therefore force start is also a part of the connotation. The method to hard restart an iPhone depends on the model. Starting from iPhone8 and iPhone SE (2nd Generation) and ending to iPhone 12, the method to hard restart your iPhone is same. Follow this to hard restart:
Press volume up button and release it.
Quickly press volume down button and release it in the same manner you released button in the first step.
Later, quickly press and hold the side button (wake up/lock button) until your phone restarts and Apple logo appears, release the side button.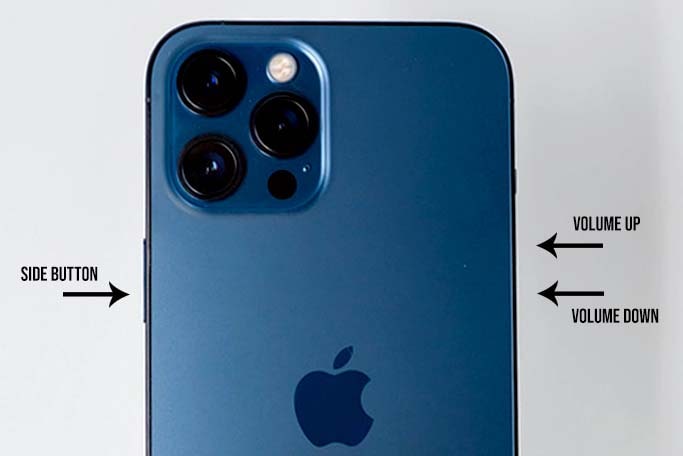 You've to follow a similar procedure to hard restart your iPhone 8 and iPhone SE 2nd Generation. The older iPhones use a different method for a hard reboot, therefore these button combinations are not applicable.
During hard reboot process, at the side button stage, you might come across slide to power off iPhone's prompt. You must ignore it and continue holding the side button until you witness your phone restarting and the Apple logo appears.
How to hard shutdown iPhone?
Suppose you don't want your phone to reboot, then you should go to Settings > General > Shut Down, and it'll shut down your phone entirely. However, force reboot is a better option as it helps when you can't use the phone interface. This shutdown option clears the cache and shuts down applications.
You might like: Own an iPhone 7? Learn how to hard reboot it!
Conclusion:
The hard reboot option helps iPhone restart all the applications. Therefore a significant number of errors are resolved such as slow iPhone and lag in certain applications. If your iPhone is jittery then you must hard reboot. The procedure to hard reboot iPhone 8 (2nd generation) and beyond is the same, as it's mentioned above and it's easy.