VLC is a top class video player which is a necessary add-on for any operating system. If you are using Mac OS X, Linux or Windows that doesn't matter because VLC is a player for every operating system. VLC offers a vast range of playback plugins which anyone can use to play any type of movie or video which may be present in any of the formats.
Often a time the audio quality of some movie is not much good or the movie is in some other language. At those times the importance of subtitles is very much and if the syncing of the subtitles with the voice is not much good then that results in a bad interpretation of the scenes.
Don't worry there is a solution which can help you re-sync subtitles with the voice of the characters in the movie. You can match the subtitles text with what the characters are saying during some scene within perfection of nano-seconds. I must admit that KM Player is better when it comes to a rematch of subtitles with the audio but VLC again is a bit shy to express its features. This article will give you a perfect way to resync the subtitles in VLC player. In addition to this perfect way, another manual method will also be shared which will help you in a better understanding of the procedure of re-syncing subtitles and will also give you some sort of more manual control.
How to: Re-Sync subtitles in VLC with the Audio:
The first thing which you need to do is playing the movie. Drop the subtitles files inside the VLC window.
Wait till the moment when you can hear something clear. Like any phrase which makes perfect sense. Press "SHIFT + H" at this moment.
Now, wait for the same phrase to be shown in subtitle on the VLC window in the bottom centre. Press "SHIFT + J" when you watch the subtitle which is same to the line you heard.
Now, to resync this both positions simply press "SHIFT + K" and this will re-sync the subtitles with the audio.
If you are watching subtitles before the voice, then simply press shift + j when you see the subtitle and press shift + h when you hear the audio after the subtitle and in the end press shift + k to resync these two points. So, now either the subtitles is ahead of voice or voice is ahead of subtitle this doesn't matter.
The other thing which you can do is to manually calibrate the subtitles. This can be a bit awkward procedure but again that can be done. The above method and this one will work for any operating system, be it Windows, Linux or Mac OS X.
Run VLC in MAC click on "Window" and then click on "Track Synchronization". However, in other distributions you may need to find this menu, like in windows it's in "Tools" and then "Track Synchronization".
The next you'll see a window like this, here you can advance your video, your audio and your subtitles. You can adjust seconds through which you may need to adjust your subtitles.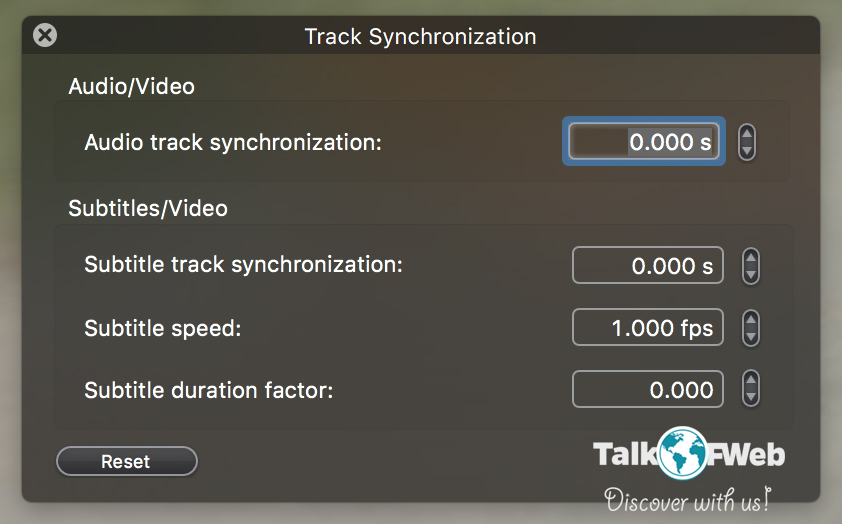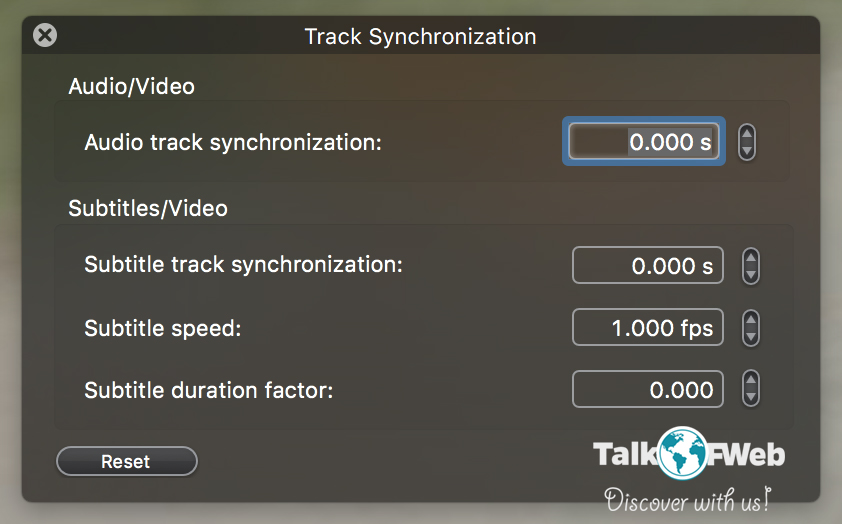 The two menus give you power over Audio/Video means if audio is out of sync with video then you can adjust that too.
The other menu gives power to re-sync subtitles.