Developers push updated version of the software to provide bug patches, performance upgrades and special features. Software on macOS work in a different way, normally called as Applications. There are three popular methods to upgrade any software on macOS to the latest version.
Update Appstore provided applications
If you want to update Numbers, GarageBand, Pages, iMovie, Excel and WhatsApp Desktop then follow this procedure:
Open Appstore from the application launch centre or press Command+Space and search for Appstore.
In the left pane, click Updates. You'll come across a screen which lists all eligible Applications for updates.
Click Update icon infront of the application which you want to upgrade.
This method works with all the applications available on the Appstore.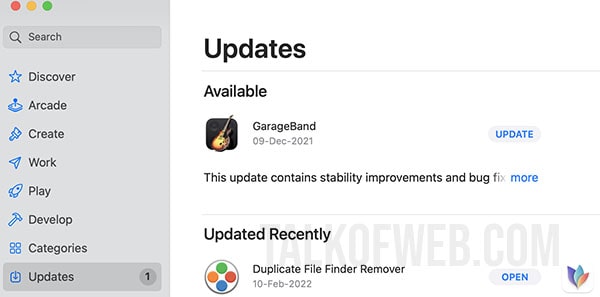 Update non Appstore & open Applications
Software like Adobe photoshop, Gimp, Sublime Text etc. are not available on the Appstore. Follow this guide to update non Appstore listed software.
Visit the related website or download page of the software.
Check version of the running software by going to the preferences after launching the software you want to update.
Go back to the software website, find the recent version, download it if it's later than the version already installed on your mac. Close any instance of the running software on the mac.
If the downloaded software file has a .dmg extension, simply double click it. Copy the application to the mac applications folder. Select option Replace existing application while pasting/replacing old application.
On the contrary, if software has .zip extension, right-click and extract. Find if it has an update application, in case it has, just double-click it. It'll update the already installed version of the software.
The software which Appstore doesn't list can either have a replaceable app file or can have an update utility as app file, or can also have an update option in a setup file, for the update purpose. Most applications/software will update thorough the explained 4th step.
Update macOS related Applications
In-built apps like Safari, Finder, Activity Monitor etc. will update once you upgrade macOS to the latest version. As of writing this tutorial, Monterey is the latest version of macOS. Follow this guide to learn how to update macOS.
Open System Preferences (Click Apple icon on top left corner, click System Preferences).
Find Software Update, click it. Allow it to search for the latest version of the macOS.
If another latest version of macOS is available, click Upgrade Now.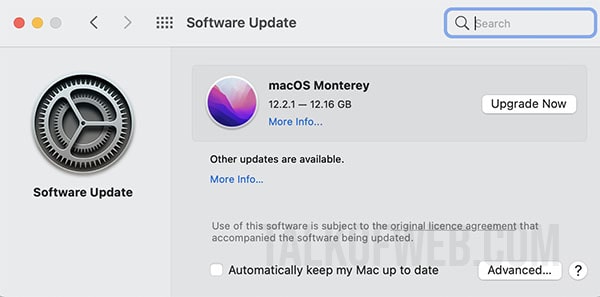 Conclusion
There are four kind of updates on macOS which you can partake. First kind is updating software on Appstore, second kind is updating independent software using replace app technique, third kind is using an update setup and fourth kind is updating system software using macOS update utility in System Preferences. All of these methods give you access to the latest version of the macOS software.