You can use Google Assistant voice commands to use third-party applications on Android. It's an amazing feature rolled out by Google in recent months. This feature allows you to associate your voice with certain app functions. For example, suppose you want to create a tweet without ever touching your phone's keyboard then just create a voice shortcut using Google Assistant. Let's learn how to use this awesome feature:
You need to install Google Assistant on your Android phone. It's an official Google app that promises better productivity. On the first launch, the app will ask for some permissions like microphone one. You need to allow it.
Launch Google Assistant and say My Shortcuts. It'll take you to a new menu. This newly opened menu will show you many possibilities. The possibilities depend on the amount of third-party apps installed on your phone. Look below for a sample of this menu, how it appeared on my phone: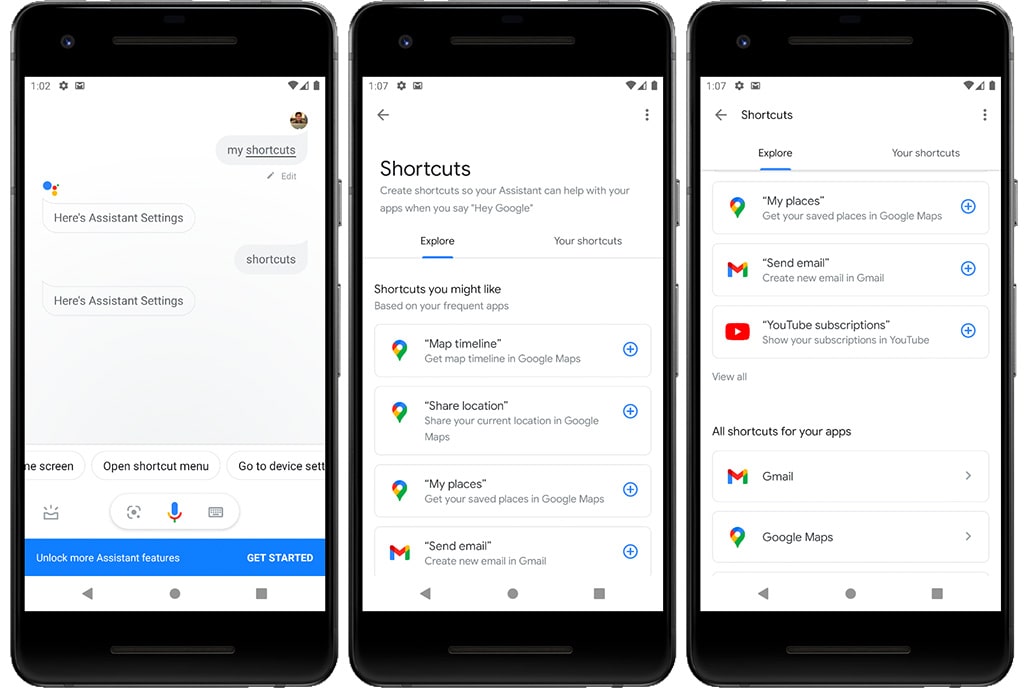 You can see a list of shortcuts available for the apps installed on your phone. Suppose, I want to view my list of subscriptions on YouTube app. Tap YouTube Subscriptions (that tiny plus icon) and it'll show you a confirmation message along with a default command: Hey Google, YouTube Subscriptions.
Next time, launch Google Assistant and say, Hey Google, YouTube Subscriptions and it'll show the details by opening YouTube app. Hence, the shortcut is successful.
You might like: 7 Best Productivity Apps to make you more organised
How to change default voice shortcut
You can easily change the default voice shortcut. In the above case, the voice command to view YouTube subscriptions was Hey Google, YouTube Subscriptions. The result was YouTube application launched with all the details. Let's learn how to change this shortcut by following these steps:
Launch

Google Assistant

and say

My Shortcuts

.
A menu will popup, tap

My Shortcuts

. You'll see a list of your old shortcuts.
Tap on the App for which you want to rename the voice command.
Tap that pencil icon, and write the new command. In my case, I changed

YouTube Subscriptions

to

Show Channels

.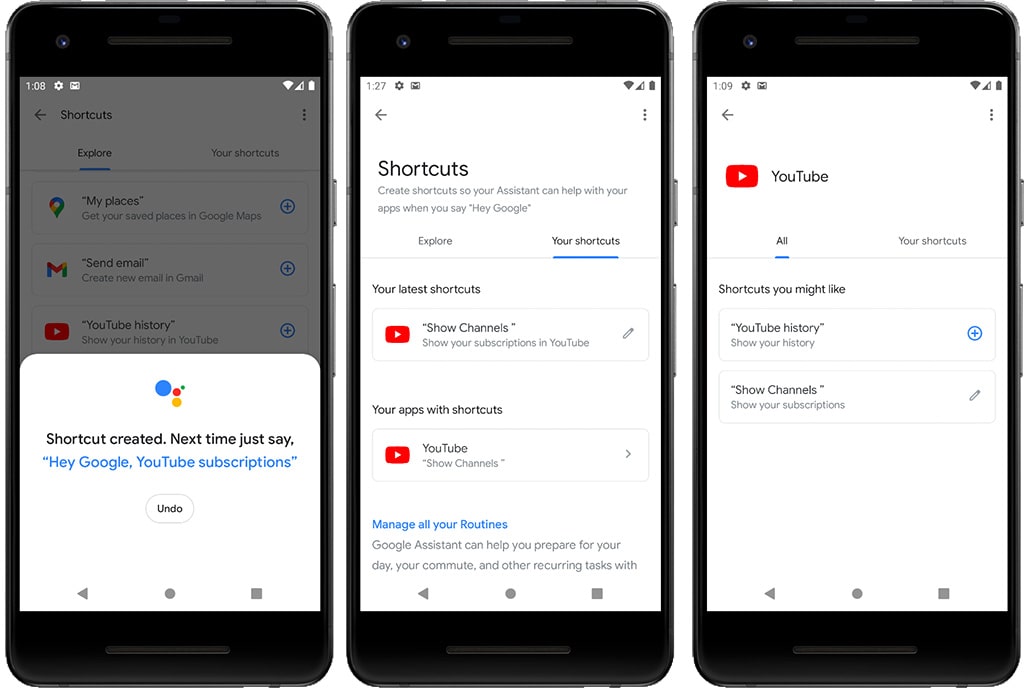 So next time, the same action of showing subscriptions is now associated with the new command.
My Shortcuts command not working
If your phone is not accepting My Shortcuts command then you need to update your phone's Google application. Google Assistant works on the core of Google application which ships with most Android smartphones, especially Nexus.
Launch Play Store.
Search Google and tap update.
Make sure you also update every other application on your Android. Old apps may not support Google Assistant shortcuts feature.
Conclusion
Google Assistant shortcuts is an amazing new feature that can help you increase productivity. Currently, there are many apps supported by this shortcuts feature. The list is expanding. In the past, Google Voice commands were limited to in-phone functions beyond third-party apps, however, this is about to be changed. In the future, you'll be doing many things inside third-party apps using voice commands.