iPhone 12 Pro has a LiDAR sensor, as advertised by Apple during the launch event. What is LiDAR? It's basically a laser which scans surroundings. Therefore, its application is helpful in Artificial Intelligence based tasks. Apple uses the same sensor for better night photography as well. Since new buyers of iPhone 12 Pro are enthusiastic about this sensor, therefore, we are sharing a few, best of LiDAR applications.
Measure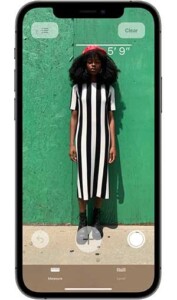 This application comes preinstalled on your iPhone 12 Pro. Using LiDAR and AI, you can measure the height of a person. Locate the person whose height you want to measure. In the preview, you'll witness a white line above the head of the person. Subsequently, from head to toe, your iPhone 12 pro Measure application will show the person's height.
Additionally, you can also change units by going to the settings. Measure app is available on older versions of iPhone, however, only the iPhone 12 Pro integrated LiDAR sensor in this application. Similarly, you can also use pictures of someone from head to toe for finding his height. This feature in Measure application is going to be a deal-breaker.
IKEA Place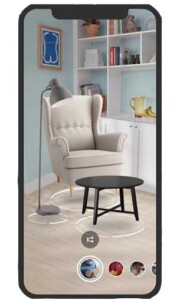 IKEA is a world-renowned furniture company. Definitely, it finds a practical usage of LiDAR sensor in iPhone 12 Pro. As a result, we are featuring it in LiDAR applications. IKEA place promises consumers a quick 3D preview of their product by placing it right inside their home. It uses Artificial Intelligence and LiDAR sensor in iPhone 12 pro to offer perfect 3D experience.
The application offers 3D models of the furniture, whereas, LiDAR sensor helps an accurate placement. It's quick and offers a practical usage without ending the fun.
Snapchat
Snapchat changed the landscape of social media applications. It's the first application which made in the list of LiDAR application for iPhone 12 Pro. During the Apple launch event, a brief introduction of Snapchat using LiDAR was given to the audience. It offers a cool application, such as the user can add any 3D object near himself before clicking the snap. The option to add animated objects near a living person is quite an amazing option. LiDAR sensor offers the accuracy with which these 3D objects can be placed in snap stories.
3D Scanner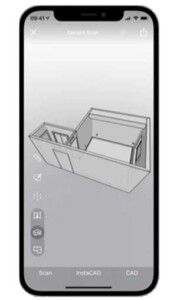 There are a few 3D scanner applications which use LiDAR. 3D Scanner and Pocket 3D Room Scanner, both use LiDAR for architects and designers to create 3D models of any object. Pocket 3D Room Scanner can offer the scanned room's model in a 3D supported format. For example, if you want to share a 3D model of your room to your designer, then these two applications can come handy.
Similarly, 3D Scanner offers you an option to scan and create model of a 3D object. For advance users, this application is pretty handy, as they can incorporate different models in their designs without having to remodel them using computer.
Conclusion:
LiDAR sensor is available in iPads for long. However, it's first time that Apple has offered the sensor in iPhone 12 Pro. There aren't many applications available which use LiDAR technology. However, the above mentioned applications can be used with iPhone 12 to have a basic LiDAR experience.
Pictures: App Store / Apple