Samsung has started a new marketing strategy, running virtual android on an iPhone. iOS and Android have their own differences, however, many people prefer Android flexibility over iOS simplicity. For someone who is struggling to decide between an iOS phone or Android, the chances of them actually using Android are pretty slim. Samsung New Zealand has created an awesome iTest facility that allows you to simulate Android on an iPhone device. How cool is that?
The extent of virtual experience which iTest offers
iTest allows you to use Samsung One UI right on your iPhone. You can scroll through homescreen, find different apps and even run some apps. You can visit the messaging and email applications. Furthermore, you can swipe left to visit the Google news feed.
Surprisingly, when I swiped left, I was offered a click-bait story. On clicking that story, I was instantly offered a 15% discount on Samsung buds. So it'll be nice to accept that Samsung New Zealand has hidden some easter eggs.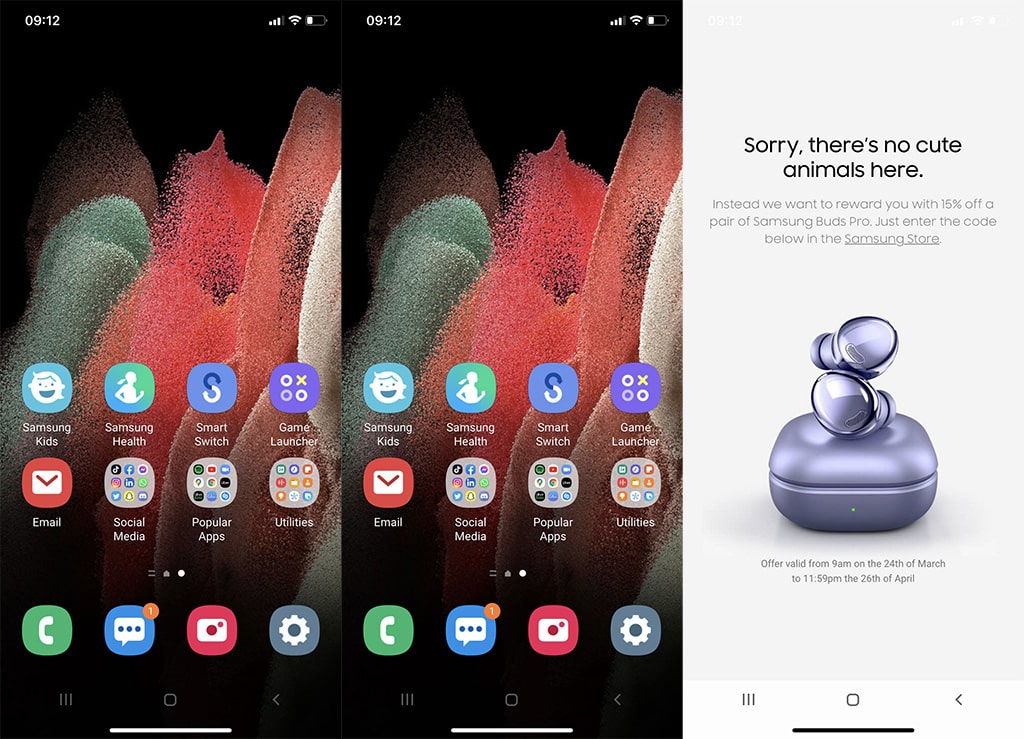 The experience isn't just limited to messaging, email and Samsung store, instead, you can also visit the phone call app and make some calls.
You can use camera and after running the application you'll notice a guy walking you through the features offered by Samsung. The interface of the camera is a total copy of Samsung as it asks you for camera permission on your iPhone.
Settings app works just fine and offers loads of feature which an original samsung phone offers. You can scroll down and go through almost every kind of setting such as digital wellbeing, display, wallpaper, themes and home screen.
How to use iTest on your iPhone
If you look at the screenshots, you'll notice that iOS status bar is the same. Samsung phone offers a different status bar along with different icons. Let's learn how to use iTest on your iPhone:
Open iTest Webpage on any screen, your laptop or PC.
Grab your iPhone and open the Camera app. Scan the QR code shown on the iTest page.
Your iPhone will ask you to open a link, open it in Safari.
Tap that share icon, and press Add to Home Screen inside Safari.
Safari will create a web app on your iPhone's homepage.
Go to your iPhone's home screen and tap Samsung iTest. Voila! it works.
The limitation of iTest
iTest is a good testing facility for using Samsung on your iPhone. However, it's worth knowing that the experience offered is particular to Samsung. It's not about every Android smartphone in the market.
Moreover, you can't test the camera app and all the features that the Samsung camera's hardware might offer. There are certain apps that give you a message while running on iTest, that for an additional experience you need to use a Samsung phone. It plays down those absent feature by giving you written details.
You might like: Try iCloud on your Android Phone like an iPhone
Conclusion
iTest is a good application when it comes to experiencing android on your iPhone. You can't run it on other Android phones, it's actually designed to be used on iOS. The idea is new and it can help many users to experience the Samsung version of android. Let's admit it, the app is cool and we can use it for fun purposes.