Apple released its most anticipated flagship phone, iPhone 12 on 23rd October 2020. The phone is great with 164g weight and ships with iOS 14.1, having Apple's A14 Bionic chip. Apple's A14 Bionic chip offers amazing power for graphics. When it's about graphics, display type and size matter a lot. iPhone 12 has a Super Retina XDR OLED display panel with a screen size of 6.1 inches. It's great as far as you don't experience a green tint in your display. If you've come across iPhone's screen green tint issue on low brightness, then there are a few things that you can do to solve this problem.
What is the Green Tint Screen problem in iPhone 12?
Some users of the iPhone 12 reported screen issues such as a green and grey glow and an eerie tint under certain conditions, such as low brightness. The first instance of such an issue was reported in November 2020. Apple at the moment hasn't released an official statement regarding this issue. However, it's a widely accepted issue and at moment it's being acknowledged that the issue is with the software.
It's worth noting that in the past a similar green tint issue appeared in iPhone 11 Pro and iPhone 11, ultimately iOS 13.6.1 release was able to fix this display problem. The latest victims of this unknown problem are some of the iPhone 12, iPhone 12 mini, iPhone 12 Pro and iPhone 12 Pro Max. There are a few pieces in circulation which happen to have this green tint screen issue.
Possible Solutions to the iPhone's Green Tint Screen Issue
Following are a set of solutions which you can follow to get rid of the green tint on your iPhone's display.
1. Check for Display Filters
iPhone 12 offers display filters that cover your screen with a slight tint of the selected colour. You need to visit Settings > Accessibility > Color Filters. Check if you've selected Color Tint, as shown in the screenshot. Just Turn Off the Color Filters options through the toggle button.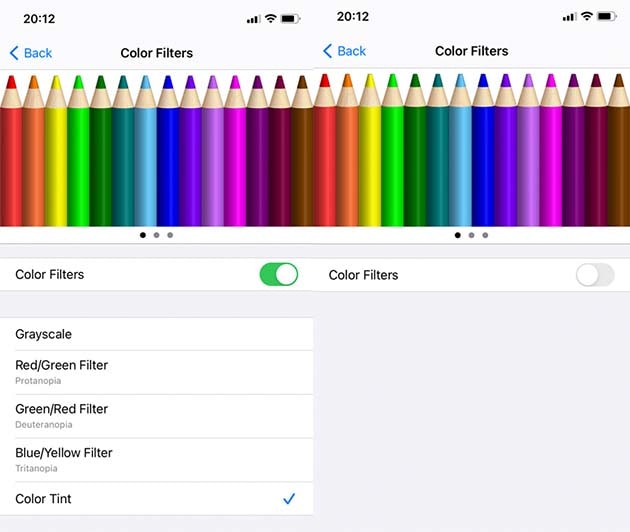 In short, make sure that iPhone's screen green tint is not happening because of some software setting. After you've explored all these software settings make sure you've restarted your iPhone 12 one more time before proceeding to further solutions.
2. Turn off True Tone, Night Shift and Dark Mode
True Tone adapts your screen display according to the surroundings. In order to disable True Tone, you need to visit Settings > Display and Brightness, and just toggle off the True Tone.
Second, head to the Night Shift and make sure it's disabled. Both True Tone and Night Shift adapt the phone to the surrounding light.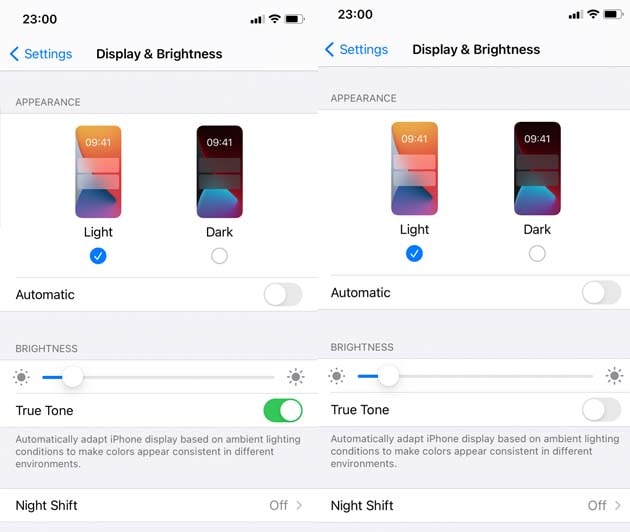 Verify after restarting your device, in a dark room if the green tint vanished or not. It's possible that after these settings the green tint will vanish.
3. Update your iPhone 12 to the latest software
Once you've made sure that it's not the setting, the next thing you should do is to check the iOS version. According to certain sources, Apple's iOS 14.5 solves the iPhone screen green tint issue. So, if your iPhone 12 is one of those less lucky ones which throws an eerie green tint on black images and low brightness setting, then you must update your phone's software immediately.
As of 7th March 2021, the latest version of the iOS is 14.4, interestingly Apple has already released iOS 14.5 beta. If you are desperate to try out the latest iOS version then you need to signup for Apple's Beta Program. Once you've enrolled your device in Apple's beta software program, you can download the latest iOS using the same old process as you download normal updates.
4. Send your iPhone 12 to Apple Care
If updating your iPhone 12 to the latest version of the software and resetting your device setting doesn't help, then it's time to send your iPhone to Apple Care. You need to contact Apple Support and book an appointment at the nearest Apple centre. If your device is in warranty then you can easily get your display panel replaced by an authentic Apple centre.
Prior to sending your device to Apple Care, you need to make a backup and remove any sensitive information. Furthermore, make sure you are ready to give your cellphone's password to Apple. Third and last, you need to disable Find my iPhone settings.
One iPhone user confirmed that Apple Care got his iPhone exchanged as they found that the issue causing the problem was a defective panel. They verified his iPhone in a dark room and found that greenish tint in the display.
Conclusion:
iPhone's screen green tint is a software issue. Once you have updated your iPhone to iOS 14.5 the issue must be solved. On the contrary, if you've update your iPhone to the stable iOS 14.5 and it doesn't solve the problem then you've the contact Apple's support. Hopefully they'll be able to identify the issue and replace any faulty hardware.