I have covered a lot of wordpress topics on this blog. Starting from installing wordpress at your hosting and to the theme customization guides, almost a lot of things about wordpress have been covered. However, this was never cleared that what exactly now you need to do after getting up wordpress on your hosting account. If you still haven't gotten that how to install a wordpress then you can ask that from your hosting providers also, they will certainly install a wordpress for you.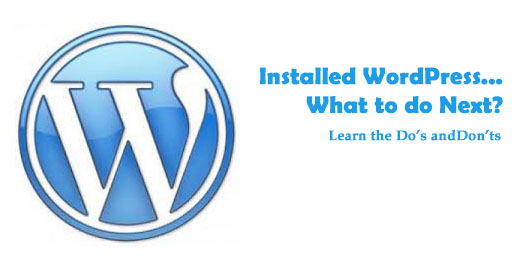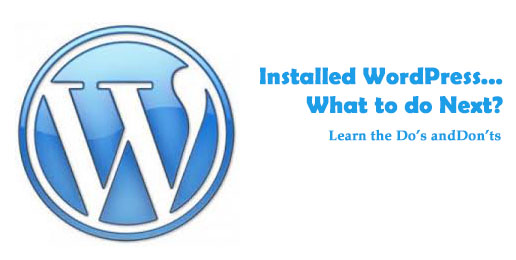 After you have installed wordpress self hosted version on your hosting, then what you need to do? If you look at your domain interface, it will be a default wordpress theme. Now you need to plan your movements from here. There are two concerns remaining after your first self hosted wordpress:
1- What should be the design of your wordpress blog?
2- What should be the strategy to run it and promote it on the social media?
Both of the above concerns are really important because if you haven't decided that before then you are surely going to waste your time. Rest, wordpress is really a simple content management system and whether you are a computer expert or not, you can easily handle it with just simple clicks jobs.
Designing the Interface of Your Newly Started WordPress Blog:
The top most thing which you must do after installing wordpress is selecting a theme, I am sure you are a starter. So, start with a lot of free themes available all over the internet. You can also buy a premium theme. Right now a lot of professional bloggers and other popular sites use either Genesis Framework theme or else Thesis. Both are really good from every point of view. If you go for premium solution then you don't need to care about theme updates, security and SEO. These premium themes from Studio Press are really well SEO optimized structurally. Rest, the SEO really depends upon you and your content.
Learn Why Genesis is the Right Choice For you if you are a beginnger – Even Talk Of Web is using Genesis Framework
Other then going premium you can search google for "Free WordPress themes" and this is also going to help you. What so ever you do, you must select a theme and after downloading that in the ZIP format. You need to install that, Just login to your WordPress. This will be the login path: "www.yoursite.com/wp-login.php"
Installing theme in WordPress: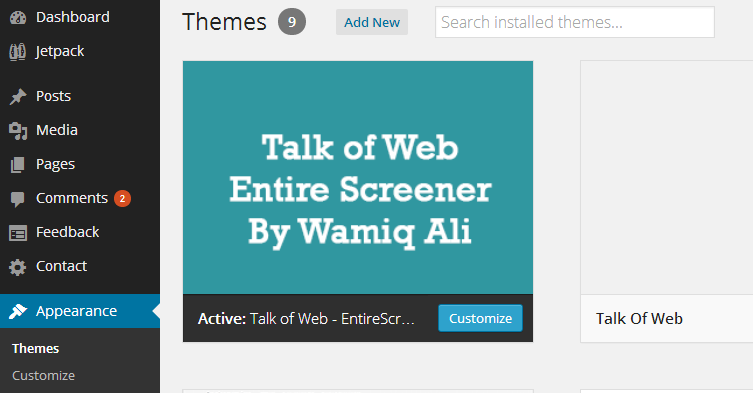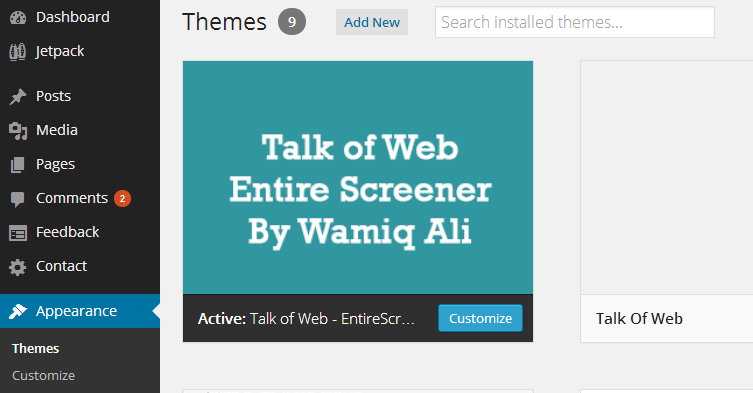 This is the main preview of the WordPress themes area. You can see a Add New button at the top of this screenshot, From there you can upload and install or I must say can activate your downloaded theme. After you have successfully uploaded your theme, now you just need to sit back and start posting or adding content to your blog. But wait a second, the strategy needs to be decided also at this stage.
Strategy to Run a Newly Created Blog:
This is the most important question as it is going to decide the conclusion of the efforts done by you to your blog, many bloggers make mistake here and don't focus to the strategy.
Think What to Blog:
You must know, the why word and what word. You must have clear thoughts about the content which you are going to produce. It must be perfect and done with your brain only.
Think What you can give to visitors:
Right now you are producing the content, but what are you going to give visitors? Are you trying to educate them? Are you trying to help them earn online? Like, you must think like a visitor and must ask yourself a question that "What's special in my blog?"
Think How to Handle the Social Media:
Now a days, SEO is not only the thing, you must have clear approach on converting your Google's traffic to your Fanbase on social networks. As later on this will be the direct advertisement of your content once posted on website. You can reach your audience directly through the social media.
Thus, all such things needs to be done. Everyone can start a blog but not everyone survives. After this article some advanced WordPress tutorials are going to be published. Those tutorials will help you to become a WordPress Expert. So, do subscribe. 
Update: Tutorials to learn wordpress have been published and every tutorial can be found here: Learn WordPress Completely, be a pro wordpress developer and a blogger