Last year, Google had announced Nearby Share which is an airdrop like feature for android smartphones. Android users always missed a feature that may allow them to share files, links, photos and texts across devices. The good part is that Android 6+ support this amazing feature, which means your old devices will easily offer you Nearby Share.
How Nearby Share Work?
You don't need to use third-party applications like Airdroid, or go to messages to send large files online. Nearby Share saves time and you can instantly share any file, text or photos with nearby devices in seconds.
The mode of transfer is chosen as per the situation, the two devices can transfer items using Wi-Fi, Bluetooth etc. The good thing is that in this process the receiver doesn't know your identity. You don't need to share your details other than your device name while sending files, text or other information.
How to use Nearby Share?
This feature is pretty simple to use. Anyone can share files and other information with a few simple taps. Follow these steps:
Open an item that you want to share, suppose it's a photo in your gallery.
Press the share icon, and find Nearby Share. It'll ask you to turn on Bluetooth, Wi-Fi and location.
After this, it'll start to search nearby devices.
Your friend's device will appear with his name, tap on that device name.
Your friend will accept the incoming item and the transfer will be completed.
Make sure, your friend's device is not hidden in Nearby Share settings, otherwise, it will not appear in your share list.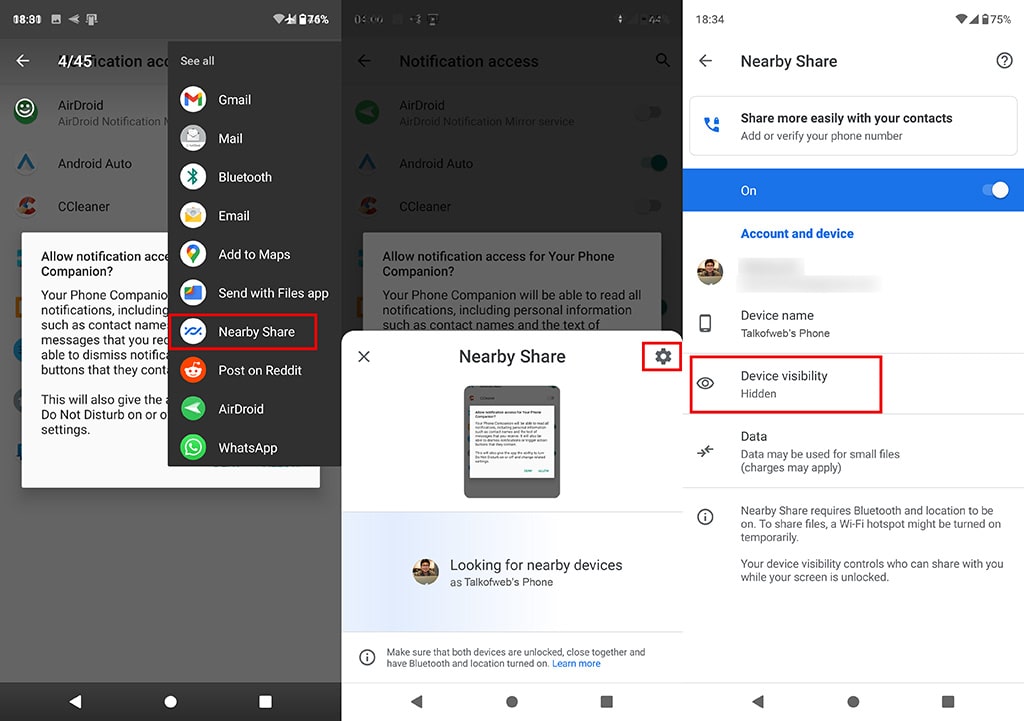 Furthermore, you can change your device privacy if you are on the receiving end. Tap that setting icon shown on the top right corner of the Nearby Share popup (as highlighted in the above picture). It'll take you to the settings. Under the device visibility, you can select if you want some contacts or every contact to discover your device when they are nearby.
Sharing anything is as simple as this. For example, if you want to use Nearby Share in Google Chrome, then use the following process:
Open

Google Chrome

on your Android.
Click on those

three dots

in the top right corner.
Find

Nearby Share

in the list, and then tap it. This will share the current page with any other android device nearby.
I can't find Nearby Share, What should I do?
If you are unable to find this feature in your android smartphone then you should check your android version. If you've android 6 and greater, which I am sure you must have, then it's time you need to update your apps.
One of the most important app which you need to update is Google Play Services. Launch Play Store, go to Apps and Games, from there you need to update your apps to the latest version. Restart you'r phone and your problem will be solved.
Conclusion:
Nearby Share is an amazing feature that is supported in almost every latest Android phone. You can share text, links, photos, pdf files or documents right from your phone to another android device. The advantages are numerous, it can use any of the available connectivity options while keeping your identity anonymous. A plus point is the time which it saves.