Samsung's Galaxy smartphones are a popular choice among consumers. However, not many purchasers are tech-savvy, as a result, they don't know how to keep their smartphone updated. Samsung has come a long way. It has equipped its smartphones with good display and tons of smart features, such as running two apps simultaneously, fingerprint lock and easy mode. These features receive an upgrade when you update Samsung software. Furthermore, many security features are made available to users through software updates and patches. Let's learn how to effectively update a Samsung smartphone's firmware or software.
Update Samsung Galaxy S20 and Note 20 Software to Android 11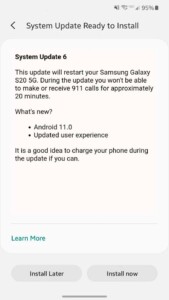 Samsung announced Android 11 with One UI 3 in December 2020. Android 11 promises new features such as chat bubbles, predictive tools, redesigned notification panel and other UI/UX updates. One UI 3.0 is a personalised skin for Android 11 which is specially designed by Samsung. It provides various features such as double-tap to turn off screen, updated gallery and additional Camera filters.
It'll take some time before Android 11 reaches to every Samsung device. The S series will receive Android 11 update up to S10 Lite, similarly Note series will receive Android 11 update up to Note 10 Lite. For further cross reference, have a look at this table, in which we've added expected Android 11 release date for your Samsung smartphone.
| | |
| --- | --- |
| Samsung Device Name | Android 11 Expected Release Date |
| Galaxy S10 & Note 10 | January 2021 |
| Galaxy Z Flip and Fold 2 | January 2021 |
| Galaxy M21/M30/M31/A51 | March 2021 |
| Galaxy Note 10 Lite / Tab S7 | March 2021 |
| Galaxy A50 / M51 | April 2021 |
| Galaxy A21s/A31/A70/A71 | May 2021 |
| Galaxy A80/Tab S6/ Tab S6 Lite | May 2021 |
| Galaxy A10/A20/A30 | August 2021 |
| Galaxy Tab A8 | September 2021 |
These are popular devices and their expected release date for Android 11
In order to update your Samsung S20 to Android 11, follow these steps:
Go to Settings, scroll down to the bottom.
Open Software Update and tap Download and Install.
You need to wait as software downloads.
You must assure that your battery is above 80%.
Once Android 11 with One UI 3.0 finishes downloading, press Install Now.
Update Samsung Galaxy S10 and Note 10 Software to Android 10
Galaxy S10 comes pre-installed with Android 9, similarly Note 10 also has Android 9. You may want to update your S10 or Note 10 because of updated UI which Samsung calls as One UI 2. Samsung's released Android 10 update in December 2019. Surprisingly, the steps to update Android 9 to Android 10 are same for updating Android 10 to Android 11. Follow these steps to update the Samsung software:
Open Settings and go to the bottom of the page.
Tap Software Update and Tap Download and Install.
The new software will take some time before it's downloaded. The speed depends on the quality of your internet.
After Android 10 finishes download, you can either schedule the installation or you can install there-and-then. Press Install Now if you want urgent installation.
Conclusion:
Software update for your Samsung is a good step. It improves many things and gives Samsung an opportunity to debug other features, as general public usage provides them with enough bug reports. However, on older devices, the processing speed might get slow. You'll need to tweak a few settings to speed up Android in that case.
Featured Image Credit: Samsung News