You can schedule a text message or an iMessage on your iPhone. It means that the process which we'll learn today will enable you to automate birthday wishes and important reminders. Surprisingly, there are two ways to send a scheduled iMessage. First is to use the native iPhone app called Shortcuts. Second is to use a third-party app like Scheduled or Later.
1. Using Native Shortcuts app to Schedule iMessage or SMS
The first method is to learn the iPhone's native app in order to schedule an SMS. You'll need to have the Shortcuts app installed on your iPhone. In case you can't find it, search Shortcuts on iOS Appstore.
Launch

Shortcuts

and tap

Automation

on bottom control panel.
Tap

Create Personal Automation

and select Time of Day. Mention time at which you want your iPhone to send message.
Press

Add Action

and scroll down to find

Send Message

. Select the recipient, type the message and press

Next

.
Turn off

Ask Before Running

if you want iPhone to send message without asking your permission. Tap

Done

and that's it, your message is scheduled.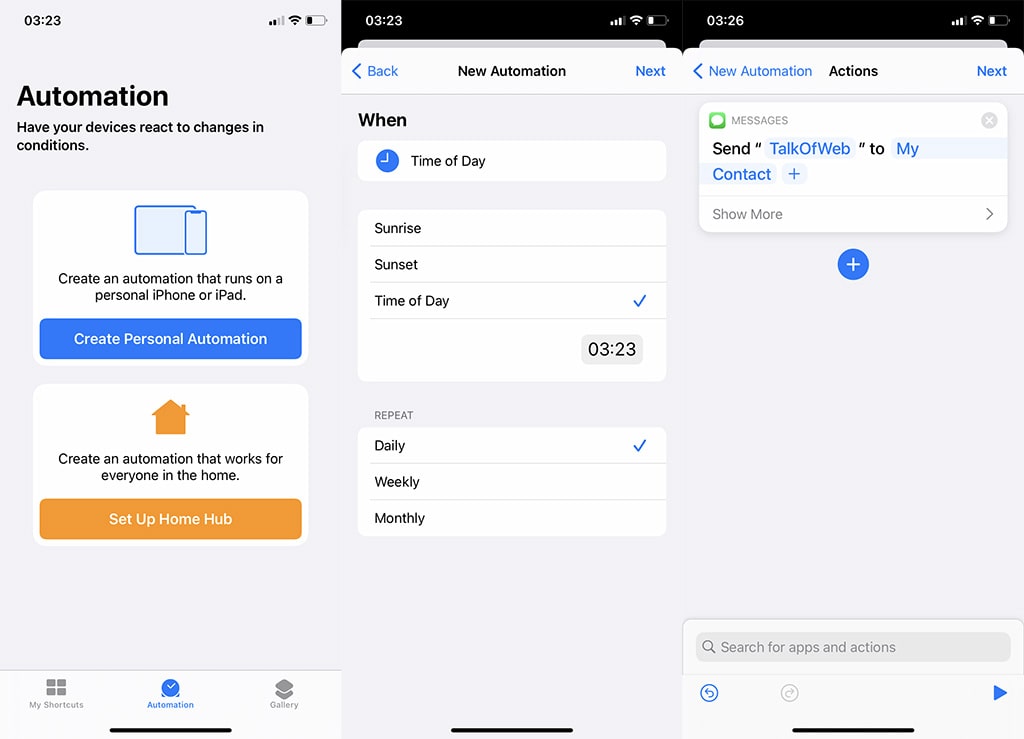 You might like: Learn how to schedule SMS on Android
2. Using third-party SMS schedule app on iPhone
The native app method to schedule iMessage on iPhone is plain simple. On the contrary, if you are not comfortable with Shortcuts then you can use third-party apps like Later and Scheduled. Let's learn how to use Later in following simple steps.
Launch Later on your iPhone. Install it from the Appstore incase you don't already have it.
Tap on that

Message

Icon in the top-left corner.
Select the time at which you want to send your SMS and tap

Next

.
Type your message after selecting the recipient and tap

Schedule

.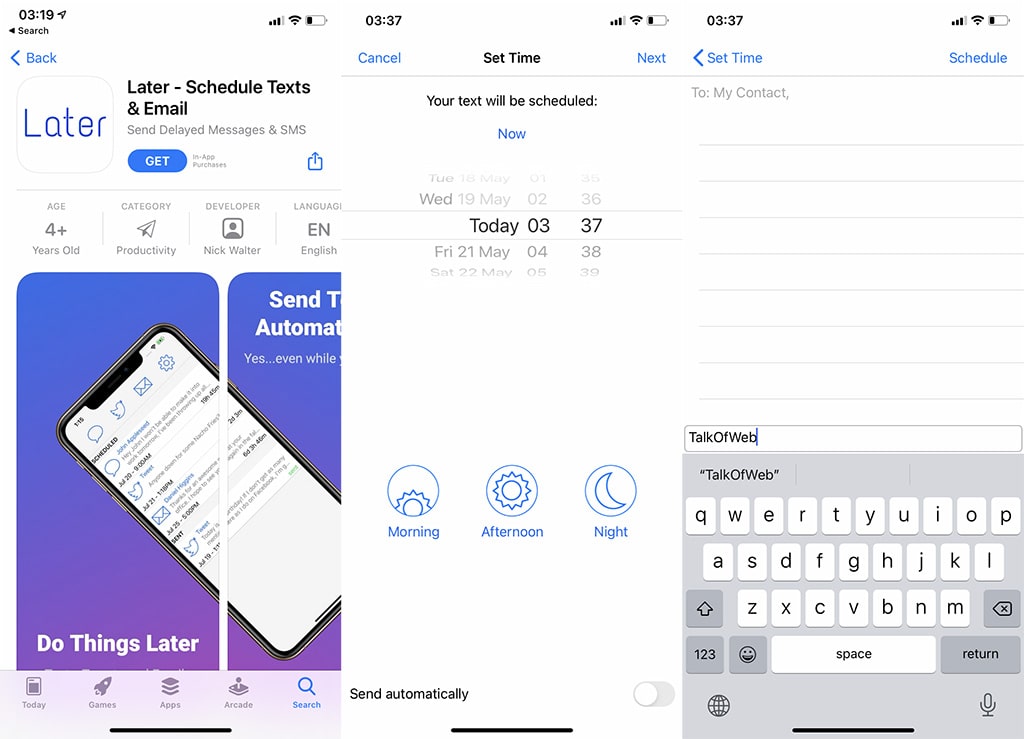 In three simple steps you can use Later to schedule SMS. However, Later will simply notify you to send that scheduled message if you are using the free version. Same is the case with Scheduled. In both apps you need to purchase pro version in order to truly automate the process. On the contrary, if you just need to manually approve sending a scheduled message then these apps are good enough.
Pro Version Price: Scheduled app costs $3,99 monthly to $4.99 monthly, whereas Later Plus has monthly, quarterly and yearly plans of subscription which cost $5 to $10.
Conclusion:
Automating iMessage is a possibility. You can now schedule SMS messages on your iPhone. It can be helpful in many situations for example meeting reminders, anniversary celebrations and birthday wishes. You will never be guilty of missing any deadline when it comes to wishing or informing people about important events in their lifetime.