Apple has constantly changed the button scheme in iPhones, therefore, users find it confusing to enter recovery mode when required. Entering recovery mode requires a combination of pressing buttons. For models beyond iPhone 8, such as iPhone X, iPhone 11 and 12, we use the same button combination to enter recovery mode. What we do in recovery mode is to restore the device to the original software.
When do I need recovery mode for a firmware reinstall?
You only need it if your iPhone is not working at all, for example, a bricked iPhone might need a firmware restore in the recovery mode. A common scenario of recovery: if your iPhone came through a failed update and it's stuck at the Apple logo then you can use it. We recognised two conditions for you to use recovery mode on your iPhone:
Your iPhone it automatically enters recovery mode.
Once you start your iPhone it's stuck at the Apple logo forever.
In case your iPhone is malfunctioning but it boots after the Apple logo then first you must try a hard reboot. The method to hard reboot older models of iPhone is different as compared with hard rebooting an iPhone 11 or 12.
How to enter Recovery Mode on iPhone X, 11 and iPhone 12?
The procedure to enter recovery mode is simple and for that you'll need an iPhone cable, Laptop and iTunes software. In case, if you are using a Mac then you'll use Finder, as new macs don't have iTunes. Follow this procedure to enter recovery mode:
Plugin in your iPhone to your laptop using the data cable.
Press and release volume up button. Press and quickly release the volume down button. After it, press and hold the side button until you come across the recovery screen.
Next, on iTunes you'll be given three options, you can either restore from an old backup or update your iPhone to the latest software.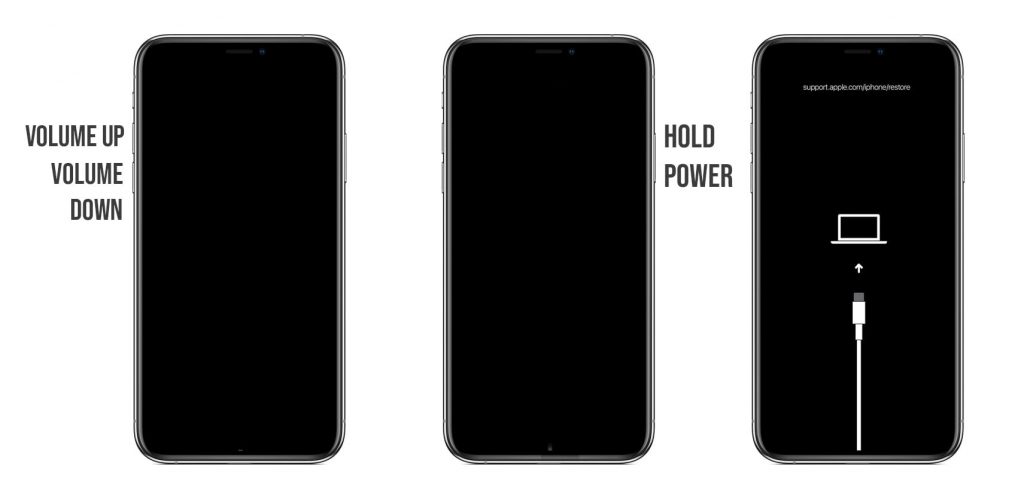 If you chose to update then your iTunes/Finder will try to install the latest iPhone software. Sometimes, if your iPhone has failed to update in the past, then this option may not work well owing to the non-availability of storage space. Therefore, restoring your iPhone can be the only option in those cases.
What to do if recovery mode fails?
You need to make sure that you are using the latest version of iTunes and iPhone drivers on your computer. Similarly, you should restart your computer once you've decided to use it for restoring your iPhone through recovery.
Furthermore, make sure that your computer's USB port is working fine. Remove any additional USB device and make sure to plug-in iPhone directly to your computer without any intermediary hub or USB extension.
Last but not the least, make sure your internet connection is stable. It should work fine with the Apple servers because in 90% of the update cases your iTunes/Finder is going to download iOS from the internet. A bad internet will seriously hinder the recovery process.
Conclusion:
iPhone recovery mode gives you an option to restore your device to an earlier state if it doesn't go past the Apple logo screen. In the event of a failed update, not many people know that they can boot their device in recovery mode to go to an earlier state. The update option during recovery doesn't delete any of your data on the iPhone. The above-written method to enter iPhone recovery mode works only for iPhone X, 11 and iPhone 12.