Slow browsing experience is a really frustrating and we all need to get the desired website loaded in no time. Many of us also try to search the internet to find some tricks using which download speed of internet connection can be increased but everything comes to be useless. Internet has a lot of guides on how you can increase the internet connection speed on your computer but most of them are expired owing to the present usage of internet or else are not applicable in the present environment of latest hardware and software. Also many of them never prove to be promising. In my case I have never used any third party software to let my internet perform well since I don't believe them to perform a miracle with my laptop but yes, in a way you can say that they do increase your browsing speed to some extent by doing some alteration in your system's registry, DNS and changing the bandwidth limits. Here I'll share my top used ways to enhance my internet browsing experience as much as possible.
TCP Optimizer:
This handy piece of software can improve your internet experience to a great extent by doing some changes with the registry. In order to let it perform changes to the system you should run it in "Administrator Mode" after you have downloaded the software.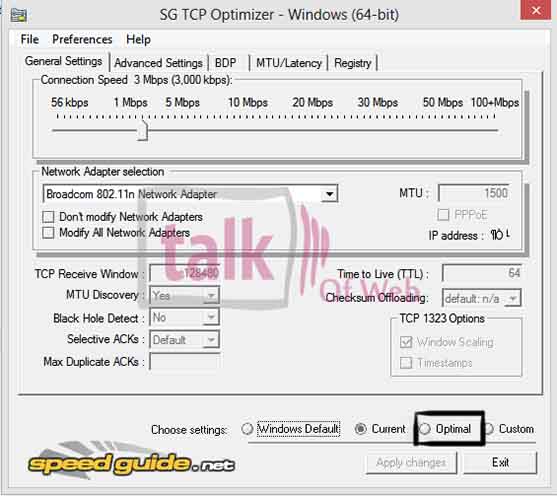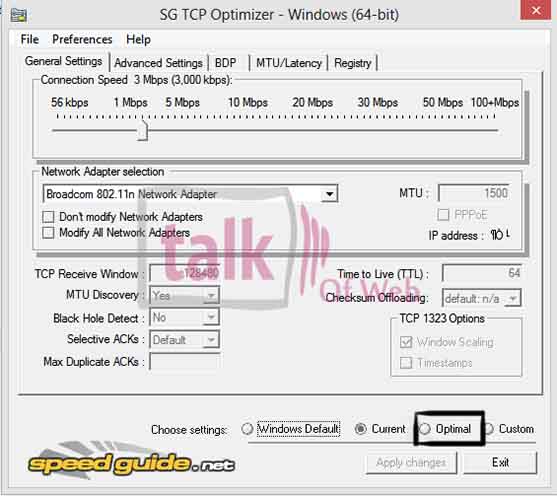 Instructions: After you have downloaded the software, just select your internet speed, your internet adapter and then select optimal. After that Apply Changes.
Changing Your DNS to Google DNS – Get Faster Response:
By default when you are connected to internet, you are using a DNS provided by your ISP but often that assigned DNS is not much fast. You can check your assigned DNS through your ADSL modem if you are using cable DSL. DNS is used to resolve a domain name to IP address however if the process is made faster then browsing will be more faster per single faster reply. You can do this by following simple guideline below:
Go to Control Panel of your Windows.
Go to Network and Sharing Center.
On the left pane you can see change adapter setting thus open that!
Right click your functional internet adapter, like mine active connection is VIA Wifi.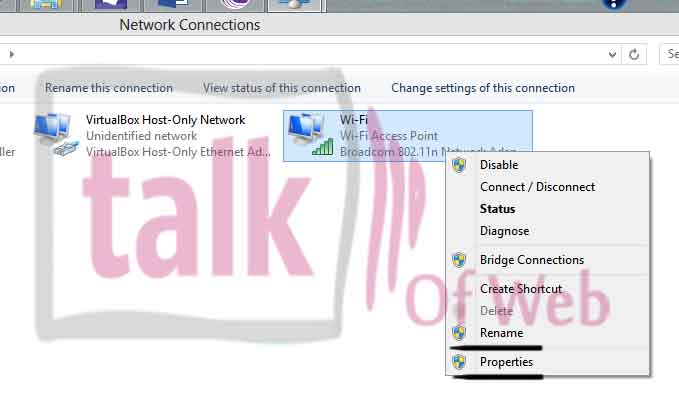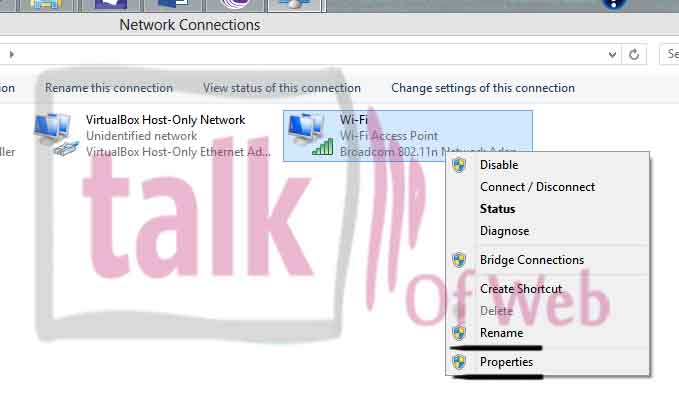 Open Properties and then Go to "Internet Protocol Version 4" and then double click that. Settings dialog box will open up. There in DNS use 8.8.8.8 and in alternate DNS use 8.8.4.4 like see the picture below and hit ok. You are done!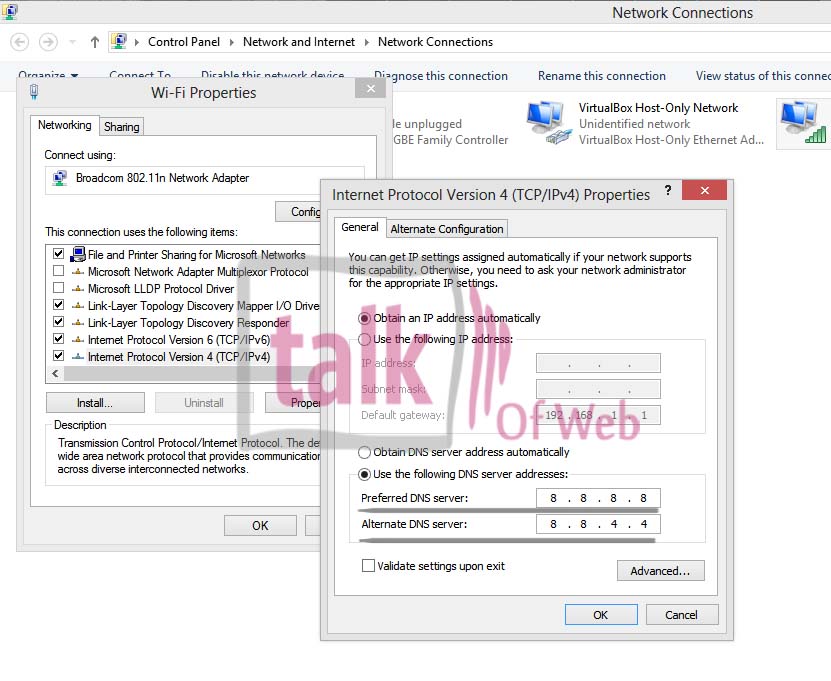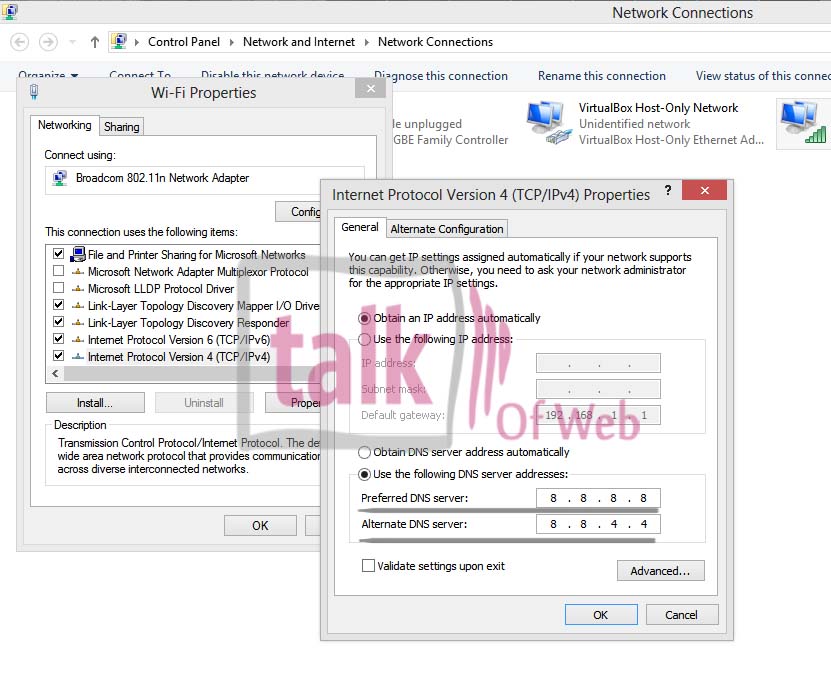 You'll surely have some changes in your browsing experience. There is also another trick to increase your internet speed but microsoft has claimed something good about that. The trick about which I am talking often floats over the internet like below:
Get 100% bandwidth out of windows by disabling 20% reserved bandwidth:
To tell you that windows reserves this 20% bandwidth only to give you better experience if needed however in other case you'll always get 100% percent bandwidth. This 20% reserved bandwidth on need is for Windows update, VOIP purposes and streaming etc. To give user side an uninterrupted experience of windows usage. However you still can disable windows to reserve bandwidth by following the below given instructions, if you get a better experience then it's good to go with 😉 and in any case if you don't then you can reverse the whole process.
Open start menu and type Regedit in the search box and press Enter on your keyboard.
In Regedit open following: HKEY_LOCAL_MACHINE\SOFTWARE\Policies\Microsoft\Windows
Right click on the Windows map and select New and Key from the drop down menu and name the new map Psched
Double-click on the new Psched map and right click in the empty white screen on the right
Select New and DWORD (32-bit) Value from the dropdown menu
Name the new Dword Value NonBestEffortLimit
Right-click on your new NonBestEffortLimit key and select Modify from the dropdown menu
In the Value Data field make sure the value is 0 so the reserved bandwidth percentage is set to 0% (you can change the value to any percentage you want the reserved bandwidth to be, from 0 to 100)
Click Ok and then restart your computer to observe any changes. To reverse the process simply delete the registry value added through the above procedure.
Some other things to be kept in mind to get better internet experience:
Keep your computer clean from viruses.
Keep your computer clean from junk files.
Enhance the speed of computer to maximum so that heavy browsers may work at best.
Your cables used must be clean and shouldn't be full of carbon and dust.
You should have some extra space in the drive where windows is installed so that cache of the sitez can be written more comprehensively to the drive.