Remaining organised means success. Media Library in WordPress is often neglected. The official Media Library in WordPress doesn't provide many options. Often users question, "How to add folders to WordPress Media Library?" The answer to this question is simple; use famous plugins. An organised Media library gives you a benefit; you can save your hosting storage. You know that necessary images are present in your uploads folder.
5 Plugins to Add Folders to WordPress Media Library
After extensive development of WordPress, we can recommend a few plugins which you can test in your WordPress website. Sometimes due to the nature of the website, some plugins fail to work properly. In that case, we are providing five plugins which solve the same problem.
1. WordPress Media Library Folders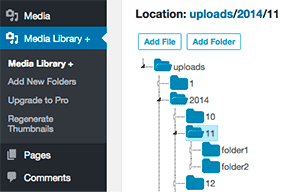 It's a free plugin to create folders in Media Library. It not only allows you to add folders to WordPress media gallery, but also offers a drag and drop feature to move, copy, rename and delete files. Further, it can also help you regenerate thumbnails.
The plugin developer has made sure that he adds the most used features of image manipulation in WordPress. Further, the recent reviews of the plugin show that it works well with recent WordPress releases.
2. FileBird – WordPress Media Library Folders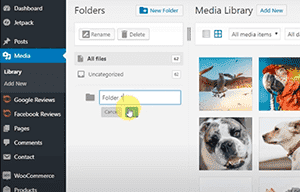 FileBird is another plugin which helps you create folders in your WordPress media gallery. The user interface is excellent which blends well with the official UI of WordPress. This plugin has a free version as well as a premium version. One of the notable features is a good user-experience.
It has a smart context menu which helps you add and remove folders with ease. Further, you can also edit the existing folders inside WordPress. In addition to a smart context menu, the plugin offers a smart drop and drag feature to better manage the media gallery.
3. WP Media Folders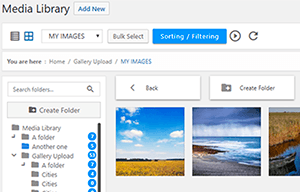 It's another good plugin which helps you organise your media in WordPress website. It allows you to upload media and later drag-drop it into another custom folder of your choice. You can create sub-folders using WP Media.
Additional feature is the provision of the ability to filter media items by using file size or title. In case you want to align your media files for sake of compressing the largest ones; WP Media Folders can help you in that case. It can also create a gallery out of a media folder. The gallery can be shown inside a WordPress article using four of the provided styles inside the plugin.
4. Media Library Organiser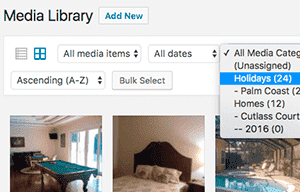 It's a great WordPress plugin which can help you sort out your gallery. The filters available are based on photos, videos and other media types. Further it can sort based on date or name. You can also import or export your data from media library. Another plus point is its seamless integration with the original UI of WordPress.
The pro-version of the plugin allows for automatic categorisation of your media gallery images. This auto-categorisation works through image recognition technique. Further, it also allows you to view the meta data of an image.
5. Media Library Categories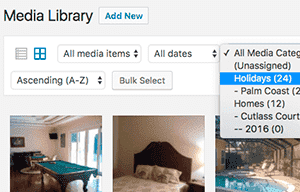 It's another plugin which can be useful in helping you organise your media library in WordPress. It allows you to add categories to your gallery. You can add, remove or change categories of many media items inside WordPress library with one click. One can also filter media based on custom taxonomy.
This plugin helps media library filteration based on added categories. This option helps you find related images quite quickly. The Insert Media Screen, during post creation, also shows the View All Categories options for embedding images in posts.
Conclusion:
It's possible to organise your media library using folders. It not only provides you a compact gallery but also negates the possibility of duplicate images. Further, there are some images in a WordPress website which are meant for the website as a whole. For example, Logo and Favicon etc. Such images should be places in essential folders inside the media library.
The above shared plugins make your life easier as a blogger.