Facebook has recently introduced the post embed feature which will just allow you to embed any publicly shared post on your blog and website. This feature is just like twitter which allowed you to embed the tweets into your websites. This is not a bad feature at all since you can play with it in two productive ways. It's quite useful for all of us and thus it's best for the giant social network facebook too, since technically now facebook is going to overtake everyone in social networks.
How to use the post embed feature of Facebook:
Below you can see the embed feature of the facebook posts: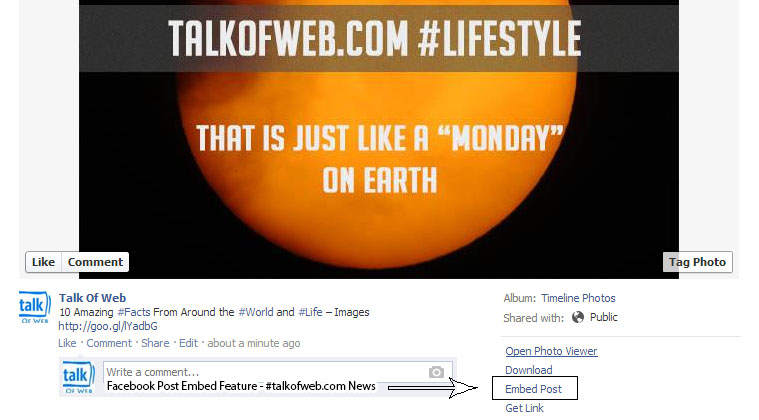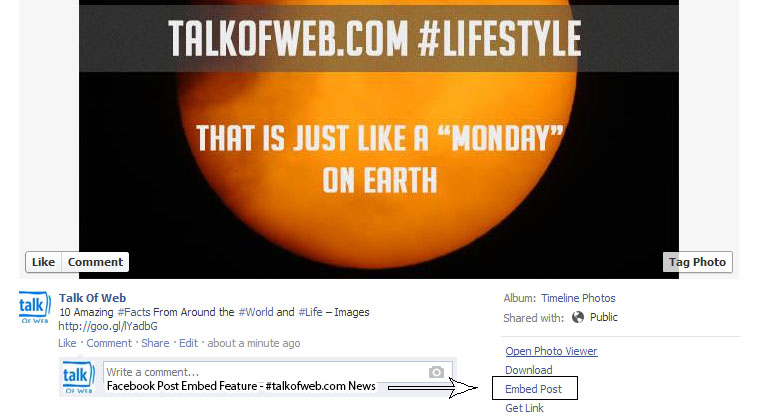 Embedding a facebook post is just as simple as embedding a youtube video as it just gives you the code of that specific post to let you paste that anywhere in your website template. And at that specific place that specific facebook public post will start appearing. People can like that post, can easily comment on that by clicking on the comment button. Everything is neat and simple.
Hit the embed post button, grab the code and put that anywhere on the web. You are done!
Things you should do with this Facebook Post embed Feature:
Following are the two cool things which you can do with this facebook post embed feature.
1- Announcing a contest and tracking the visitors:
Many a times we bloggers announce the contest and that is shared on the facebook page too, thus one can easily embed that facebook page shared post regarding the contest easily on his blog. People can comment from there and can like the page from the embed widget also. Thus, practically it can prove to be a good thing. Plus, you can also announce the results of the contest too on your facebook page and ultimately embedding that on the website.
2- Combining your Facebook page knowledge with the blog audience:
You got some nice conversation with your facebook page audience and want that to share with the audience of the blog too then this facebook post embed feature is for you. That knowledge can prove enlightening for your blog audience too. No need to get a snapshot of that long facebook post rather just embed that and give a track of the new comments on that specific post too. Often a time we bloggers guide facebook users and thus that guide can easily be shared with your blog readers. Simple and clean!