You can easily connect iPhone to PC Bluetooth and share your internet connection. People normally think that they can only share their internet in an iOS environment. For example, sharing internet between a mac OS-powered laptop and an iPhone. However, contrary to the popular belief, we've tested and used iPhone's internet on Windows 10. Let's learn how to create iPhone Bluetooth hotspot and share it with Windows 10.
Connecting Windows 10 to Internet through iPhone's Bluetooth:
First of all you need to connect iPhone to PC Bluetooth. We've published a detailed guide which explains this step of bluetooth connection: Learn how to connect iPhone to PC Bluetooth. After a successful connection, follow these steps:
Open Control Panel (Search it through Cortana) and click Network and Internet > Network and Sharing Centre.
Click Change Adapter Settings in the left hand pane.
Next you will see two or more adapters based on your PC. Find Bluetooth Network Adapter and double-click.
You'll find your iPhone connected to Windows 10 Bluetooth in this section. Right-click on your iPhone's icon and click Connect using > Access point.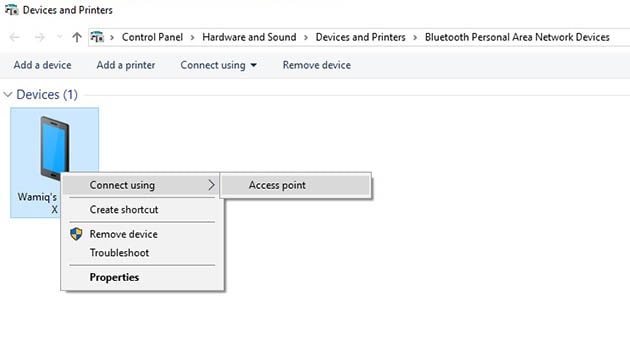 After a successful connection, your Windows 10 PC/Laptop will now connect to the internet.
Bluetooth power consumption is less when compared with Wi-Fi, therefore this kind of hotspot will ensure a prolonged battery life on the iPhone. However, there is one drawback, the transfer-rate of a Bluetooth hotspot is pretty low. On test, iPhone's Bluetooth hotspot speed was around 0.5mbps.

Conclusion:
Definitely, using iPhone's Bluetooth for internet connection is a smart move when you just want to use the internet for loading webpages on your PC. It will save data. Furthermore, in case your laptop's Wi-Fi isn't working then you can always rely on the Bluetooth of your iPhone.