Gone are the days when iPhone's couldn't connect to your PC through Bluetooth. You can not only connect your iPhone's Bluetooth with Windows 10 but also share your iPhone's internet connection using BT connection. However, sharing files, applications, music and documents using iPhone's Bluetooth and Windows 10 isn't possible. Let's learn how can we connect iPhone with Windows 10 using Bluetooth technology.
Open Settings on iPhone and go to Bluetooth. Turn it on.
2. Start Windows 10 laptop, make sure you have turned on your Bluetooth. Some laptops have a hardware button for Bluetooth.
3. Open Settings in Windows 10 and go to Devices. Turn on Bluetooth (If not already) and click Add Bluetooth or other device. Your laptop will search for a Bluetooth device (as you click Bluetooth on next Window) and soon it'll show your iPhone.

4. You'll soon come across your iPhone asking you to confirm a sharing code. Just confirm it on your iPhone screen. After a couple of minutes, Windows 10 will notify that your iPhone is successfully connected.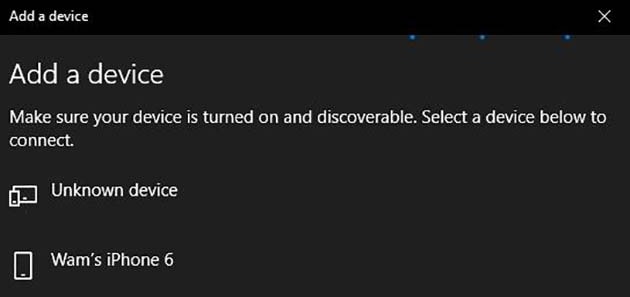 Note: If you'll try from your iPhone to connect to Windows 10 PC Bluetooth, your iPhone will throw an error Pairing Unsuccessful. The reason is that you should connect Windows 10 PC to iPhone's Bluetooth not vice versa.
Sharing files using iPhone's Bluetooth with Windows 10:
There are one or two applications which claim to help you share files using Bluetooth. Well, you can't share files from an Apple device to a non-Apple device. The reason is a difference in software protocols. Therefore, you can connect Windows 10 Bluetooth with an iPhone, but you can't really share your files.
Furthermore, the iPhone's storage is protected. You can only use iTunes software in Windows 10 to share your iPhone's data.
Using third-party file sharing apps:
You can use third-party file sharing applications like Zapya or SHAREit. However, keep in mind that those applications will use Wi-Fi not Bluetooth. Furthermore, these apps will not provide you with enough permissions to browse through iPhone's and iCloud's storage. You will share your Photo Library with Windows 10 using these applications.
We've created an exclusive guide which explains the afore-mentioned purpose: How to Sync iPhone over Wi-Fi and Transfer Data
Conclusion:
You can easily connected your iPhone with a Windows 10 PC using Bluetooth. This connection can allow you to create Bluetooth hotspot. However, if you want to share files then use third-party applications or iTunes with Windows 10, Bluetooth will be of no use. You'll either use Wi-Fi or the lightening cable to share data.