I hope that you came here to learn wordpress through the course published online over this blog (talkofweb). Incase you directly reached this post to learn about the best wordpress hosting, then it is absolutely fine. But if you are a learner who is really new in blogging and wordpress thing and wants to learn about wordpress and its development then you must read the wordpress course step by step.
Beginner WordPress tutorial archive to Learn wordpress From Zero
Choosing the best wordpress hosting is really a crucial step for your blog and it can determine your future success in a second. A lot of factors are dependant on the good hosting which ultimately lead to the success or failure of your blog. How? Then let me explain this serious matter to you.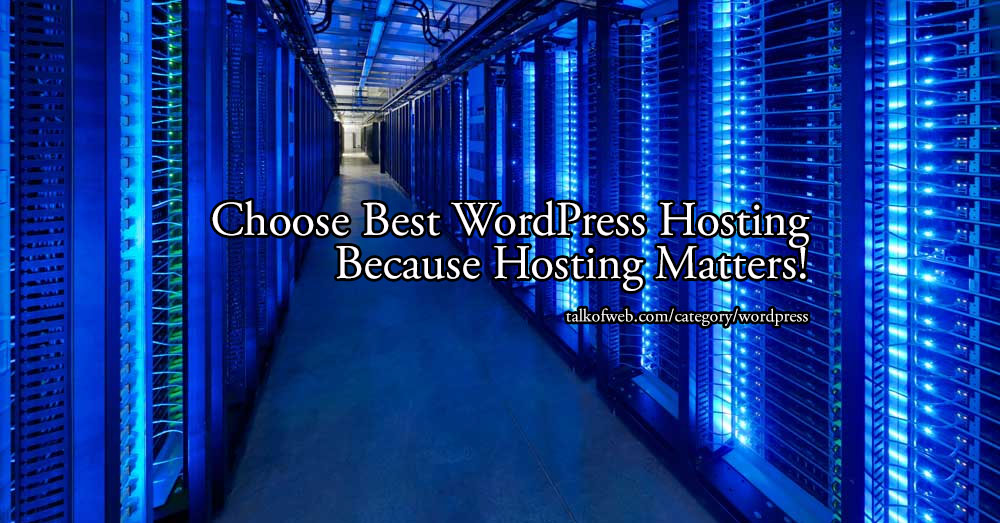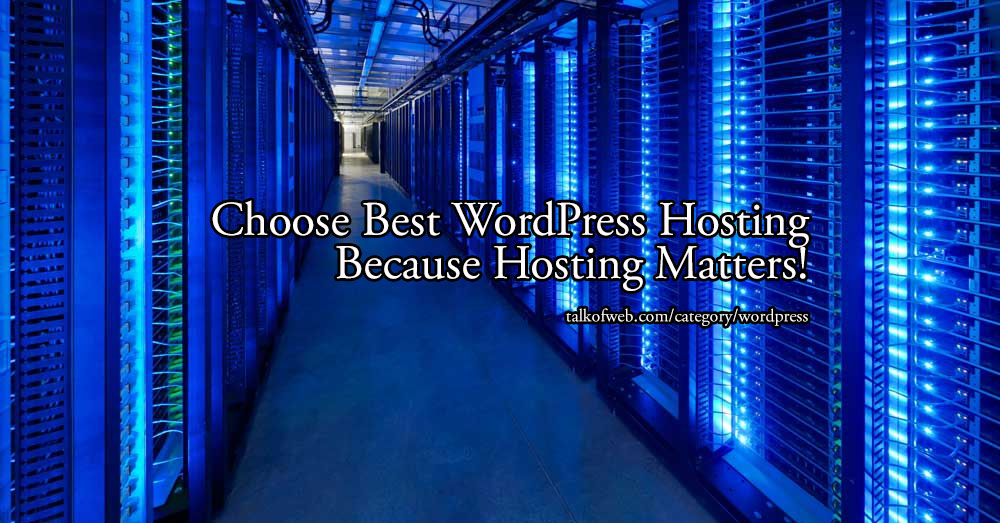 What if you select a bad wordpress hosting?
This turns out to be really disastrous for your blog traffic, user experience and the search engine's experience. Google has clearly stated that the load time of a website really matters, if your host is really bad then it means your website will have a slow loading speed. A slow loading speed or more loading time of your website will eventually force the visitor to leave the website. Google crawlers will also experience the same and will give your site less importance. A less importance from google crawlers will force your site to have some serious search traffic loss.
A bad host can effect you also, as wordpress has a database connected with it, where it actually stores the posts and the valuable content which you write in your blog posts. Most of the bad hosts have that database offline accidently at various times. Which becomes a headache, as you are unable to save and publish your post, because of database (sql) failure.
Thus, choosing a good host can save a lot of problems for you.
Some Really Good WordPress Hosting which you can choose to Run your Blog:
Below are some of the trustworthy wordpress hosting providers, which are available every time to solve your problems once purchased.
Bluehost – Quite an Old player in wordpress hosting:
Bluehost is in the recommended hostings list by the wordpress. It's quite an old hosting company started in 90's. It offers one click wordpress install with unlimited disk space, unlimited domains and a shared hosting space over a server. You can also purchase a bit less costly one domain package, if you don't wish to start more sites on a single hosting. Bluehost has a good support system and if you have any problem with your wordpress website then you can create a ticket in the support center to take the help from experts.
Get Bluehost Hosting For WordPress Now!
Hostgator – Quite Good:
Hostgator is relatively new, but has attracted a large customer base. Hostgator off and on faces downtimes overall, so its a good choice to go with. They got a really good support to help you in case of any downtime and other technical issues. They also got same packages offers as of bluehost, the most cheap on is one domain with limited disk space (Select this if you know that you will have a really small blog) however going with unlimited space it better. They also got one click wordpress install inside the cpanel for the hosting, so you don't need to panic about installation of wordpress. Incase of any problem hostgator also has a toll free number to take advantage of support over telephone.
Get Hostgator Hosting For WordPress Now!
Other WordPress Hostings Providers to Try:
There are many other wordpress hosting providers present in the market. Some of them are below:
DreamHost – Again recommended over the wordpress official website, they also offer one click wordpress install. It offers a two week trial which is a good thing to try.
Inmotion Hosting – A good hosting with a good support, which can offer you exclusive wordpress support, the business shared hosting plan starts from as low a 6$ per month.
Laughing Squid – Recommended over the wordpress, it is an independent hosting company started in San francisco which got a separate support for wordpress and is good for any type of  blogger which run wordpress. It's a cloud hosting service.
What you should keep in mind while getting a hosting for wordpress:
Sometimes, before starting a wordpress blog, one knows that how much traffic is expected in the beginning, if you are a beginner then you don't need to worry about the traffic, as surely in the start you are not going to get big traffic. However, if you are an expert and you expect some high traffic and have decided to purchase a host from the above list, then kindly make the choice of web hosting with suitable specifications for your needs.
For some really high traffic it's best to choose a dedicated server as you will never face a downtime with that, and even if you are a beginner and you have relatively some open money to spend on web hosting then going with the VPS is perfectly alright, as again using a dedicated server or a vps will insure you minimum downtimes and maximum performance of your website.