Genesis framework is really popular among the available frameworks for wordpress. A lot of beginners never know what magic genesis can do to their blogs. At least half of your effort is reduced when you make good business decisions and genesis is really one of these choices which gives a new u turn to your blog towards the success. Even talk of web is using the genesis framework and a child theme is developed by me over genesis framework. Let's not go much deep technically and share that how can you setup a complete perfect theme for your wordpress.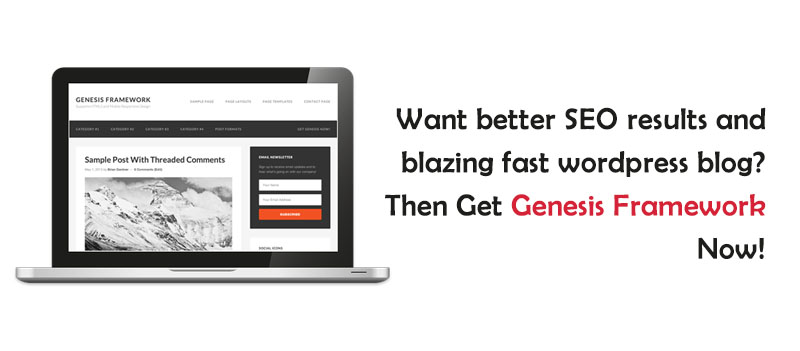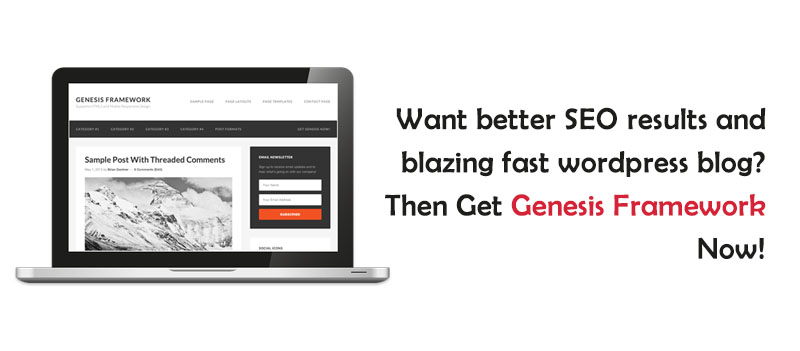 What is Genesis Framework Actually For WordPress?
There are a lot of frameworks available to be used with wordpress, but genesis got a lot of popularity. A framework is typically like a theme, which you use over your wordpress but it has a lot more available as compared to a common theme. The term Framework is actually used for two type of the things in case of the wordpress. The first one, wordpress framework is referred as a starter theme, which has nothing except the default php files used in most of the wordpress themes, but the developer builds his own style formats and removes plus adds the new code as necessary. Thus, it means that one meaning of a framework is like a base for starting your own theme for the wordpress.
The second meaning refers to a library which has got everything necessary to build an advanced theme and then you choose which things must be used in your own theme. This the what a genesis framework is, it has got a lot of useful things for the bloggers and then a child theme is made out of it, in which it is chosen that what should be present in your blog and what shouldn't be, in case of the genesis framework, everything necessary for a perfect theme is present, and even if you don't know that what to do in order to use this framework, then a lot of child themes are available pre-made in the market of wordpress themes (And that is why I am writing this Post). The things which are used in the child themes out of the main framework, are actually included in the main file known as functions.php which actually replaced the original functions.php file of the parent theme or framework.
How is Genesis Framework quite necessary for new Bloggers?
The above description will give you a basic idea about a framework but yet you might not be sure that why you should use the genesis framework with your own blog? Then there are a lot of useful answers for this question:
It has a inbuilt SEO support, which helps you get good ranking at the Google search Engine and if you are an old blogger then switching to Genesis will help you improve your rankings, you are worrying about your blog design? then no problem, transforming your blog design to genesis is much easier and your blog will look same but will be with a new engine. Don't worry if you don't know how to code we can do this job for you.
It has a markup of the html code which is best suited in the Google SERP tool i-e it's html markup is very suitable for the Google and is in accordance with the Google recommendations.
It's quite fast and offers no lag to the visitors and thus decreasing your overall load time.
It has an inbuilt theme options support where you can add scripts to the head and footer section of your blog, without editing your code.
It got built in support for the breadcrumbs which make your search appearance of categories more user friendly (i-e in Google Search Engine)
Updates are rolled out continuously from the Studio Press (The founders of the Genesis Framework.
Unlike other old themes and frameworks its coded in the pure HTML 5 and is compatible even with the internet explorer.
If you are not using the Yoast plugin or any other famous SEO optimization plugin, then again genesis got SEO settings and optimization for your blog. In case you are using any other seo optimization plugin then these settings are disabled by default.
It's really lightweight and is widget ready along with theme options support. Since the code is not buggy that's why genesis offers maximum security to your blog so that your hard work of years doesn't get wasted.
Genesis framework has got a builtin support for the widgets, and thus you don't need to code anything.
There is a one lifetime payment to get this framework and you get unlimited support from the Studio press, no more to pay every month or every year unlike other companies. Want to get Genesis Now? It's the best choice available for you when you don't know whats going on in blogging and you are new to it. but if you can code efficiently just like studio press guys have done then don't get it, instead code your own perfect theme.
Get Genesis Framework and it's child theme for your WordPress Now:
Get your own copy of genesis, with a lifetime support and life time update guarantee from studio press now! it will only cost you 59$ (Just one time fee)! A default child theme is included in it, if you want to modify that then you can do so after reading the genesis documentation.
Alert: If you want all the child themes with lifetime support then you can get this package at 400$ (Just one time Fee)
Note: If you just want one theme along with the genesis framework then prices can vary depending on theme, you can choose any theme, there are many present at studio press.
So what are you waiting for? To get any of the above package just press below button: