Ever wondered how to block an application from accessing the internet on your smartphone? For example, if you didn't want Facebook messenger to access your data connection, what would you do? The answer is simple, you need an internet blocker or internet firewall. What that internet firewall should do is to block any app to access your Android internet or data connection. Resultantly, it'll offer you more control over how certain applications use the internet on your android device. Moreover, it'll also help you save data.
Wi-Fi and Internet restriction on Android – Possible Options
People it's worthy to learn that Android doesn't offer any built-in feature to restrict or block internet access to certain applications. The only options it provides help you reduce internet usage for certain applications but doesn't cut the usage completely. What you are looking for is an on/off switch to block/restrict certain android application from using the internet. For example, built-in android options offer you to restrict Background Data Usage or allow you to set an internet connection as Metered. This doesn't ensure complete blockage of the internet for applications. However, these are good settings to remain aware of internet usage and stop applications from using data in the background.
Third-Party Application: Netguard for Android allows you to block internet access for applications
Netguard for Android is a good application. This amazing android application doesn't require root-access. Infact you can install it on any Android. It will create a local VPN which filters internet traffic. The applications which you will not white list, Netguard local VPN will block any incoming/outgoing traffic to such apps. It works on a simple principle hence it doesn't affect any system files on Android.
In order to use Netguard on Android, follow this procedure:
Install Netgaurd from the Google Play store and start the application.
You'll need to accept the license agreement, tap Agree.
It'll list all the applications installed on your Android smartphone. Tap on the Wi-Fi icon and the data-icon near the application for which you want to block internet access.
After disabling internet access for certain applications, just start Netgaurd from the top left corner. A VPN connection will start which will not allow traffic from the selected applications.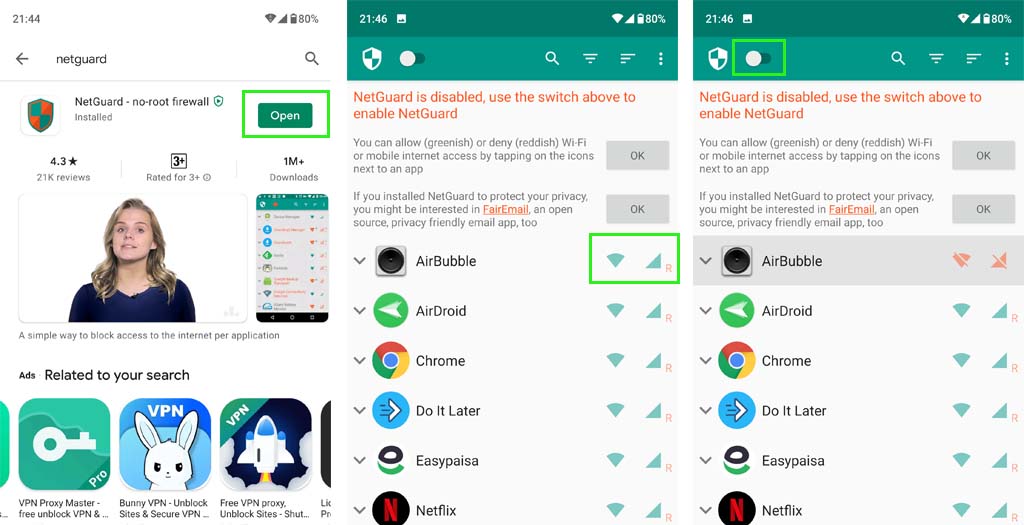 These four steps allow you to block internet access to any application on the Android. It offers extra privacy.
Furthermore, by tapping on that arrow button on the left side of the applications name, you can set additional permissions, such as Allowing Wi-Fi when screen is on etc. Netgaurd for Android is an amazing application as it covers all the options for blocking internet access either to installed applications or the system applications.
Conclusion:
If you want any app to not access the internet then you need to use an internet firewall on your Android smartphone. Non-rooted Android smartphones can't have such firewalls, therefore, a smart solution exists, Netgaurd. You can download this application from the Play Store. It allows you to block any android application from accessing the internet. However, you must make sure that this application is running and VPN is connected before you expect the internet blocker to work fine. If any other application accesses internet before Netguard creates VPN then the internet blockage will be futile. We're sure that such small connectivity issues won't affect the overall usability of this Netblocker application.