In near future, you will find augmented reality (AR) in every application. Android, a product of Google, aims to include AR in almost every low-end phone. High-end phones support this feature out of the box. Google calls it ARCore which allows developers to create a hybrid world. One part is virtual, whereas the other part is real. As a result of its high dependency on Artificial Intelligence, we've decided to record the juxtaposition of AR and Android. The developers are using ARCore for shopping, gaming, technical and household applications. We'll share, with you some of the best, AR apps of 2021 to be used on Android phone.
Just a Line
If this is your first installation of an ARCore application, then you'll need to install Google Play Services for AR. On the contrary, this application will automatically install it. Just a Line uses ARCore from Google. It allows you to draw anything in the real world using your smartphone. For example, you can draw a crown on a wall and then walk towards that crown and put it on your head.
Drawing using Just a Line is super easy. Select a wall, scene or surface, tap on the screen and move your phone. It'll start drawing on the scene. Surprisingly, the drawn elements will remain on the scene at the exact same position. This application gives you a sneak peak into AR and Android.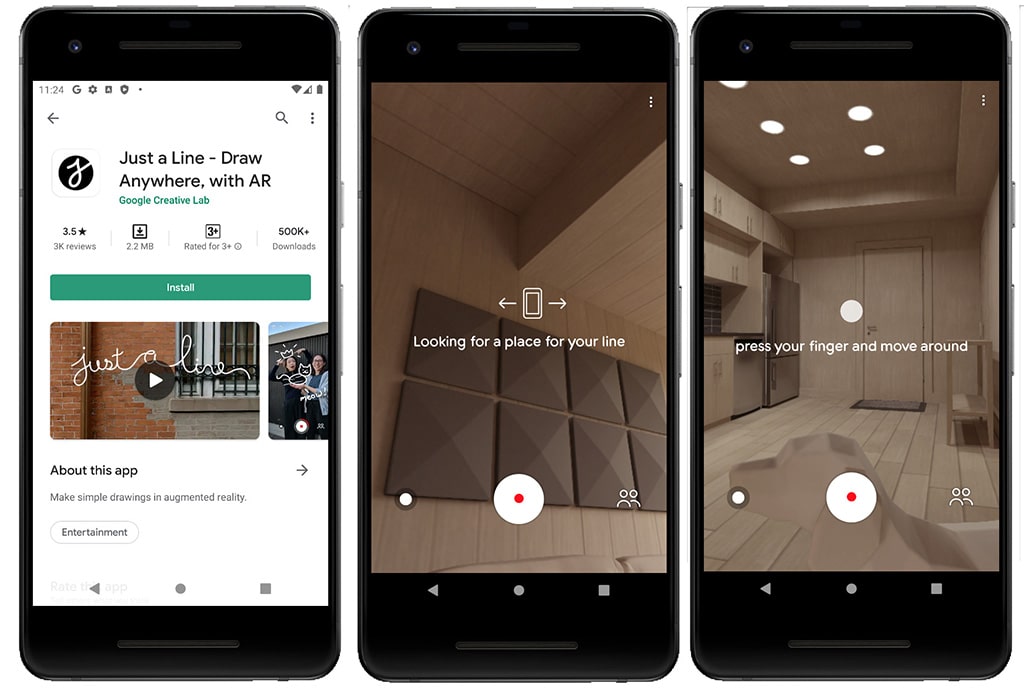 Measure App
Google has developed this measuring app which uses augmented reality. It's a great tool to measure things such as table, wall and door. Sometimes one doesn't have an appropriate measurement tape, and this app comes in handy in such situations. The app uses ARCore and it measures objects using the camera.
Additionally, you can choose to switch between metric and imperial units. Copy those estimates and paste them anywhere for data recording. The measured values are surprisingly accurate if care is taken during its usage.
INKHUNTER
Those who are fond of tattoos will like this application. Several times those getting a tattoo don't know how it'll look on their body. INKHUNTER uses AR technology to give you a sample of the tattoo placed on your hand.
The developer has made sure to make it a community-friendly application. It offers different designs uploaded by various creators. Just select a tattoo design and use your camera to see how it'll appear on you. Additionally, INKHUNTER gives you an optional editor to modify the designs according to your needs.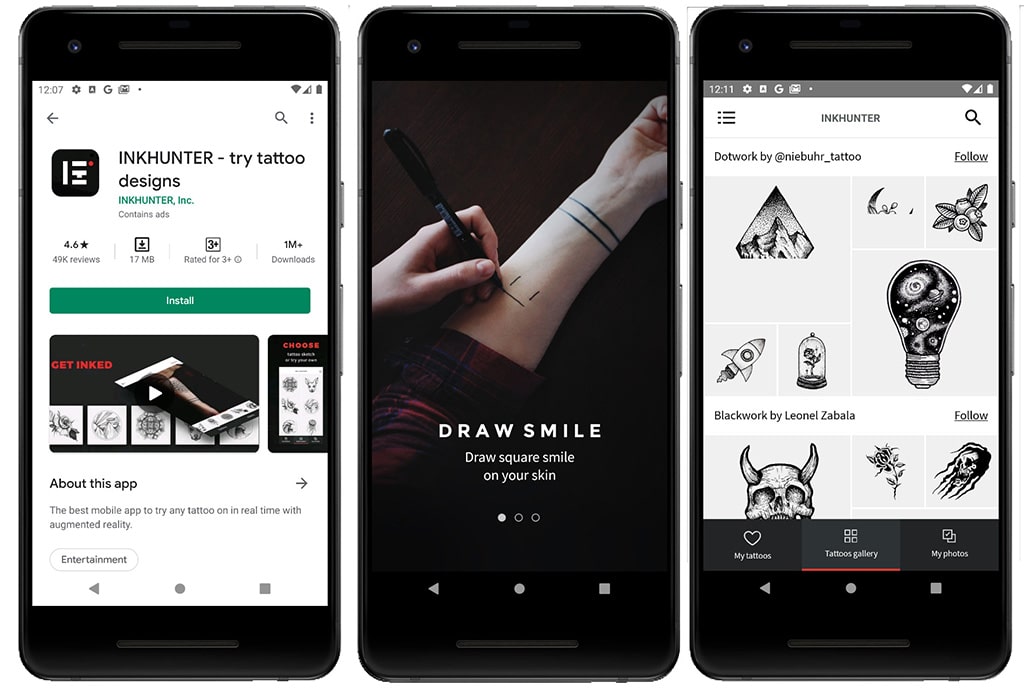 Playground
A mesmerising and fun application using AR to increment the experience, Playground AR Stickers is a must application for any emoji lover. Initially, Google released this app for her own devices. Today, it's available on a number of smartphones. This app only purpose is to offer a playground to its users, in the virtual world, ofcourse. Formerly, they named it as Playground AR Stickers, but it's available on Playstore as Playground.
It's as simple as drinking water to use Playground. In order to use it, you must launch camera application, swipe left and choose AR Stickers from the menu. Second, you have to tap on any sticker and place it in the camera canvas. Third, tap on the placed element to interact with them.
When I tried using this application, it wasn't supported on it. May be it isn't supported for the current camera application.
Big Bang AR
CERN has done a tremendous job in designing this application. It takes the user billions of years back in history and attempts to explain the creation of the universe. This application is an amazing addition to immersive learning and science. CERN is the same European organisation that has developed the Large Hadron Collider, in an attempt to find particles beyond our eyesight and imagination.
This application uses human interaction and AR to give you a guided tour of the Big Bang. The tour goes from microscopic to the macroscopic formation of the universe. As you move around your hand, you can witness the formation of the universe. There are certain bugs in this application, which are there only because of AR in its nascent stage. It'll improve with time, meanwhile you can try it out.
Doodle AR
This application checks contents with AR and brings back old memories. It analyses a scene and checks the past experiences at the same place. The memories are no longer tied with different pictures but actually, through the same space they shared. For example, if you took a picture at someplace, later that picture will be tagged to the same place. It's like a database of memories. Visiting old places will bring back those memories. The amazing feature is sharing the thumbnails of those pictures in the exact place where those were taken with distance measured.
It's more like photos placed on a map, but Doodle AR went a step ahead and places those photos in the real world.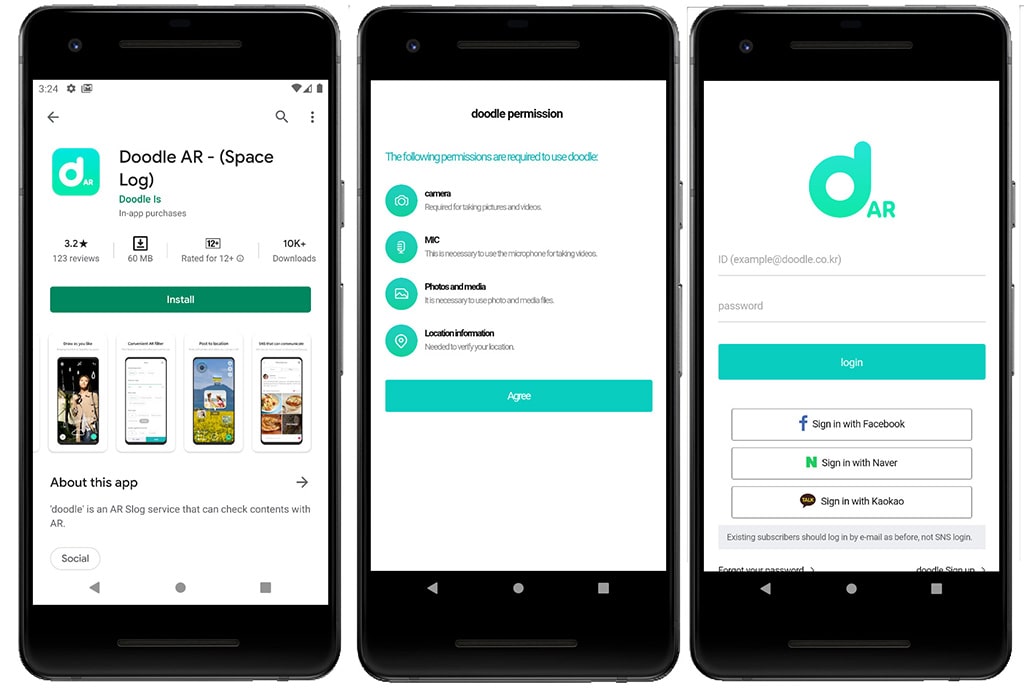 Facebook
Facebook offers AR features when you upload a story. Facebook stories offer different AR filters to enhance the experience. It doesn't use AR to its full potential but promises to add more features in the upcoming updates. Filters, such as the addition of beautiful stickers in the real world makes the entire story interesting. You can wear smart glasses in the virtual world and share the fun story with your friends.
The company plans to go a step ahead by introducing AR in its ads environment. Users who want to shop products can now experience those in the AR space. Facebook AR definitely has much to offer in near future.
Snapchat
Snapchat is a fun app that offers many AR filters and features. You can place your designed emojis in the real world and share them with your friends. Furthermore, it scans your face and offers some of the best available AR items to enhance the experience. Snapchat is probably the oldest when it comes to utilising AR to enhance stories and photos. It works exceptionally well and identifies people and places in a matter of seconds for an appropriate filter application.
Right now, Snapchat offers better fun filters and AR utility than Facebook.
Google Maps
Google's own product is offering a promising use of AR. The indoor navigation with floor, elevators and stair identification is an amazing utility of the AR. Google recently pushed an indoor AR navigation update to facilitate travellers.
Indoor navigation uses AR to measure your distance from the destination. It can accurately calculate floor level, nearest stairs and the distance from the destination. Furthermore, it guides travellers through the airport, malls and mega-buildings.
Right now, Google Maps with Indoor navigation isn't available all around the world. It's a future technology, however, we can expect it to be available everywhere soon. Right now, Google has launched it to selective cities.
Conclusion:
There are other augmented reality apps but they don't use it entirely. Some universe watching applications identify the position of stars and planets. We haven't included those in the list because those applications do use augmented reality but our focus was more on the direct usage of AR, in arts, maps, photos, social media and science. The list of AR apps for Android is ever-expanding. In almost a year many developers will use ARCore in their apps to offer amazing experiences.