Android smartphones are relatively common now a days and are used at a large extent. People often want that the home screen of their android phone should look cool and more beautiful. For the reason they often use widgets which have a good look and feel. Among the most commonly used widgets is a weather widget. If you are an owner of HTC phone then surely sense weather widgets are the best one to use but in case of other companies like Sony, Samsung or LG it's not the case and we are often repelled to use those basic looking weather widgets. I decided to gather a list of some really appealing weather widgets and share it with you all. So, that you may be able to make your phone home screen look more beautiful and more eye catchy.
1- Eye in Sky Weather
This is probably one of the best looking android weather application with some cool widgets to be used with it. The best thing about widget is: you can easily make it blend with your current wallpaper with exact transparency of background, font color and icon styles. When it comes to accuracy of the weather it seems to do it's job in the right manner. You can have a variety of widget layouts starting from a small widget displaying current weather to a week weather prediction widget including current weather. Below is the screen shot:
Get Eye in Sky Weather .apk
2- Go Weather Ex
Go team is always known  for the best appearance of the applications they code. All the applications provided bu Go team are free of cost and are highly customizable also. However because of the high quantity of heavy graphics and transitions used old devices show a lag regarding the Go products. Still the look and feel of the widget seems to be best and appealing to me, use this widget and drop some comments about it's accuracy also.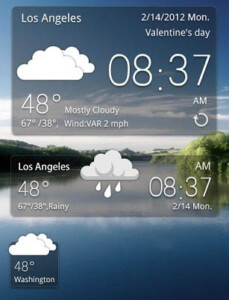 Download Go Weater Ex .apk
3- Beautiful Widgets
I have heard a lot from people about beautiful widgets and also fan following also seems nice. I have liked the interface of the widgets as it seems to be eye catchy too. It's also not just a weather widget application since it can perform many other functions with the help of many other widgets provided in the package like clock, with all sorts of toggles, clocks, and battery indicators. It has some pretty skins present over the play store. You can give it a try for sure.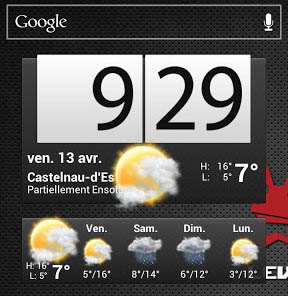 Download Beautiful Widgets .apk
4- AccuWeather – Not Much Eye Catchy but an Accurate one
AccuWeather is a nice application when it comes to accuracy and I have seen that various other applications use the forecast of AccuWeather. It is good enough to display videos, maps and also wind direction and information like humidity etc. like most traditional weather applications. It didn't grab my attention because it isn't surely eye catchy at all however I used it with cyanogen mod at my HTC Desire HD and it seemed to work just fine.
Download AccuWeather .apk