Everybody wants to go hands-free while using the iPhone. Along with getting hands-free of iPhone, people also don't like the limited storage option. One can maximum store 256Gb of data with the iPhone. The data limit option is severe. This in many cases will seriously limit your movie watching habit. Streaming movies on the iPhone isn't a good idea especially when your data plan is limited. The mobile internet comes into one of the costliest utilities. But don't worry, you can now stream movies, photos and songs locally on your iPhone and all you need is a mac laptop.
Airplay on iPhone from Macbook Pro / iMac using Plex:
This is a great piece of software because it lets your stream what so ever is present inside your mac, on your smartphone too. Not only the iPhone can use the luxury but if you have an android phone and a mac running plex, then again you can stream everything present inside mac on your Android. Thus, enabling smartphone the users watch their favourite movies, photos and music on the go. You may be anywhere inside your house, all you need are Wi-Fi signals. Don't worry if you don't have a Wi-Fi router then you can convert your laptop into Wi-Fi signals.
Now the scenario is that where-ever you are going to get Wi-Fi signals, you'll be able to enjoy your media.
Read Also: Wireless Mac Screen sharing with LED / TV For Playing Videos
Steps to enable your machine with plex to start streaming on iPhone/iPad:
1- Go to Plex TV download section. Make sure you download the version suitable for your operating system. As this tutorial is for mac so make sure you download a .dmg file.
2- After downloading the file, just install the software. As you'll double click the downloaded file it'll mount-open the application. Copy and paste this extracted file into your Applications directory.
3- Right click the application "Plex" and click Open. It will ask your permission, make sure you allow it to run.
4- In your default browser you'll be taken to the Plex Control Center. Yes, you control your library through the browser. The software uses HTML and CSS to operate. There you'll need to create an account at the Plex. Just hit Singup and create an account. After creating an account you must login to your control panel. (The panel is opening at 127.0.0.1 :32400/web/index.html , it can be different on your computer as well, depending upon the availability of the port but max times it's same everywhere)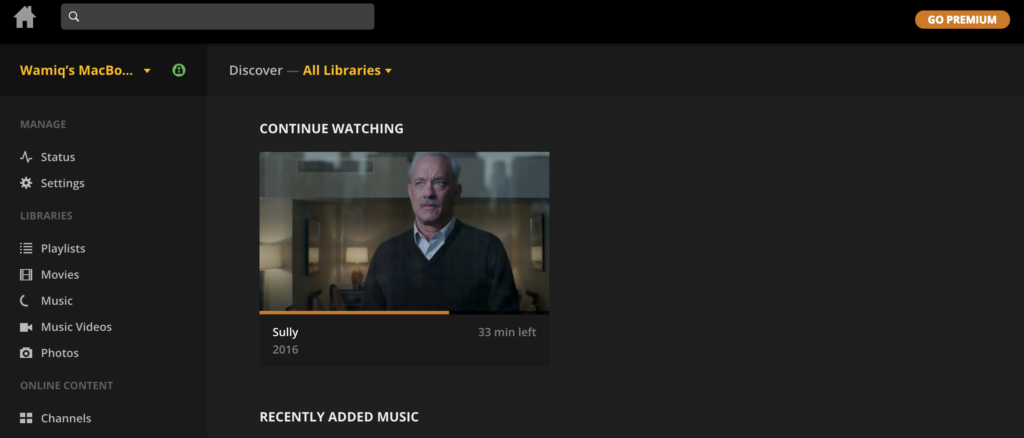 5- That's it, now you just need to add folders in the library where your videos/music and photos are present. Select the folders which content you want to stream or airplay on your iPhone/iPad. Don't add the folders in the library which content you don't want to see on other devices.
Steps to Enable your Smartphone (iPhone) with Plex to Airplay:
1- Now, this is the turn of your iPhone to recognize the library which you just started in your Mac. Go to the Appstore search for Plex there and install the software.
2- After installing just launch the app, here you'll need to login to your plex account through the same credentials which you used to signup at the Mac while creating the plex server.
3- After login in the application will automatically identify your mac inside the network as your smartphone and your mac are connected to the same Wi-Fi network. It is a must that the Wi-Fi network or the overall network be the same. Now, you'll be able to watch anything shared on your Mac, on your iPhone / iPad as well.
Bonus Tip – Use an old computer and connect 1TB hard drive with it. Create a Plex server on this old computer, whether it's running Windows or it's a mac operated system. Share your media on it and enjoy listening to your favourite content all over the home as if you are having 1 TB of space on your smartphone.