Did you know that you could share that quote on your social media in image form? A lot of social media influencers share quotes and sayings in text form on their social media channels. Experts believe that visual quotes bring more engagement as compared to text ones. Therefore, let's explore five best android apps which let you make and design quotes right on your smartphone.
1. Word Swag
Word Swag allows you to use your photos and add text on them. Additionally there is an entire library of background images which you can use to quote your message. You can choose between fonts, change colours and add shadows.
One thing which I couldn't find was adjusting the canvas size, I believe it works only with the image size which the user provides. Canvas size modification is a basic feature which must be provided. Otherwise it's a good app.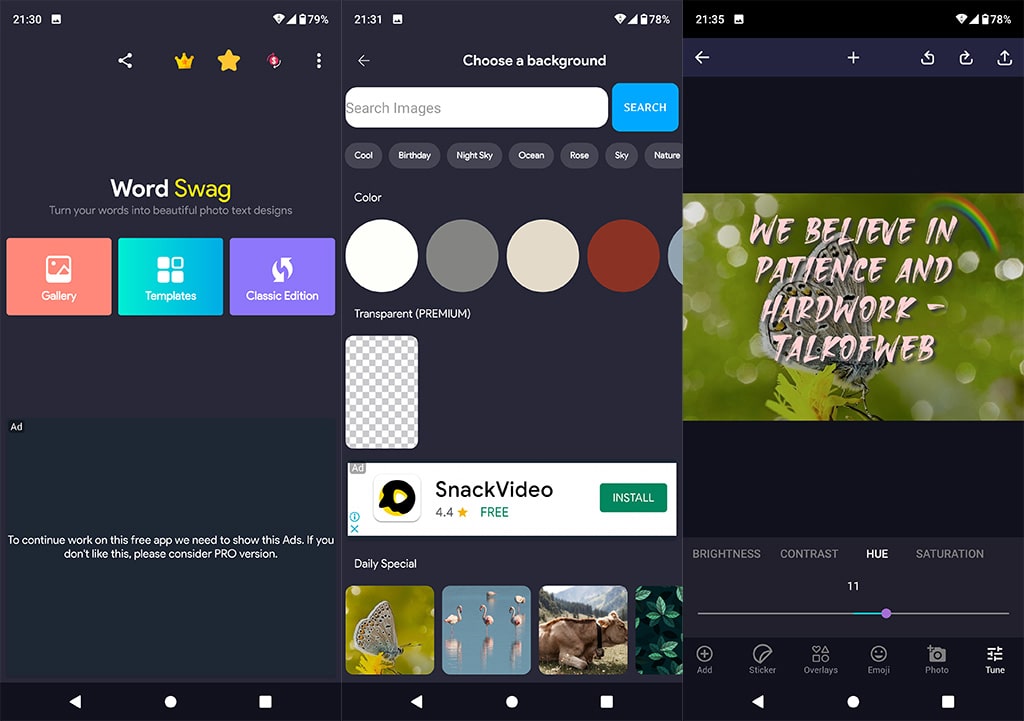 2. TextArt
TextArt is an amazing quote maker app. The good parts are ability to edit image size and using layer based editing mechanism. You can add a new image on top of the already present image. This app is perfect because in addition to minute image adjustments it offers a large range of fonts and colours.
Once you've added text, tap on it, and you'll come across a large number of editing options such as shadow, colour and style. Similarly, on tapping the background image, you'll come across other options as canvas size, stickers and emojis.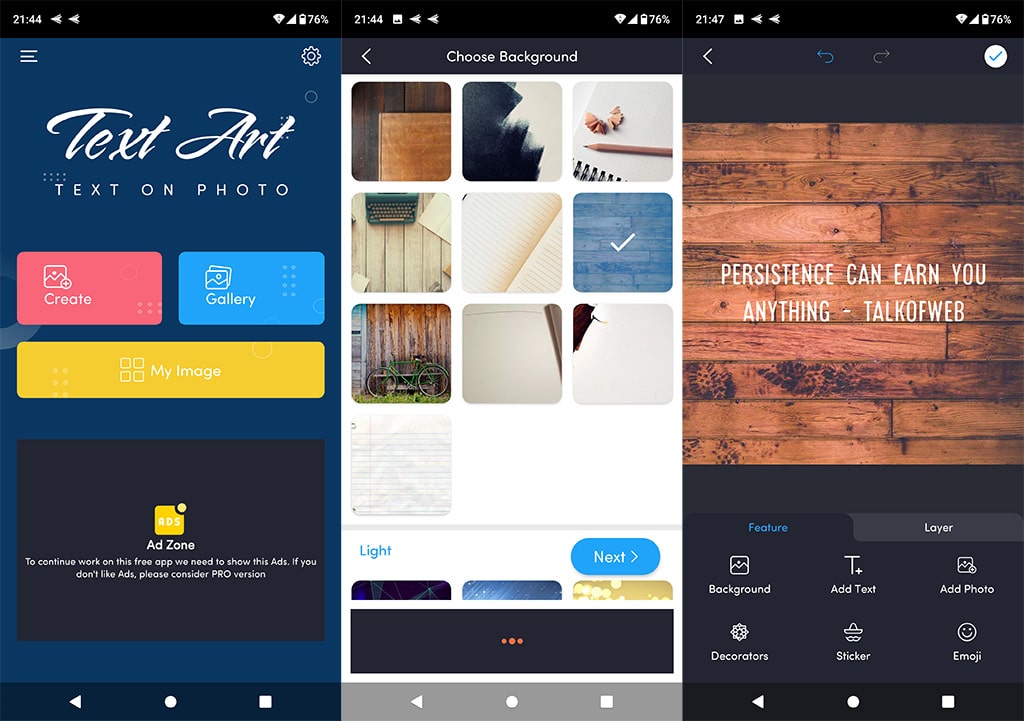 3. Canva
Canva is another amazing quote maker app for android. The good part is that it has a web version and an online account, which means portability of being able to use it anywhere. You need to sign up before you can use Canva. It's one of the best quotes making app for android out there.
This app gives you a variety of options. You can create Instagram graphics, business card or flyer using Canva. Additionally, it also supports YouTube thumbnail and Facebook Covers. This definitely isn't just a quote making app for android. It's more than anything.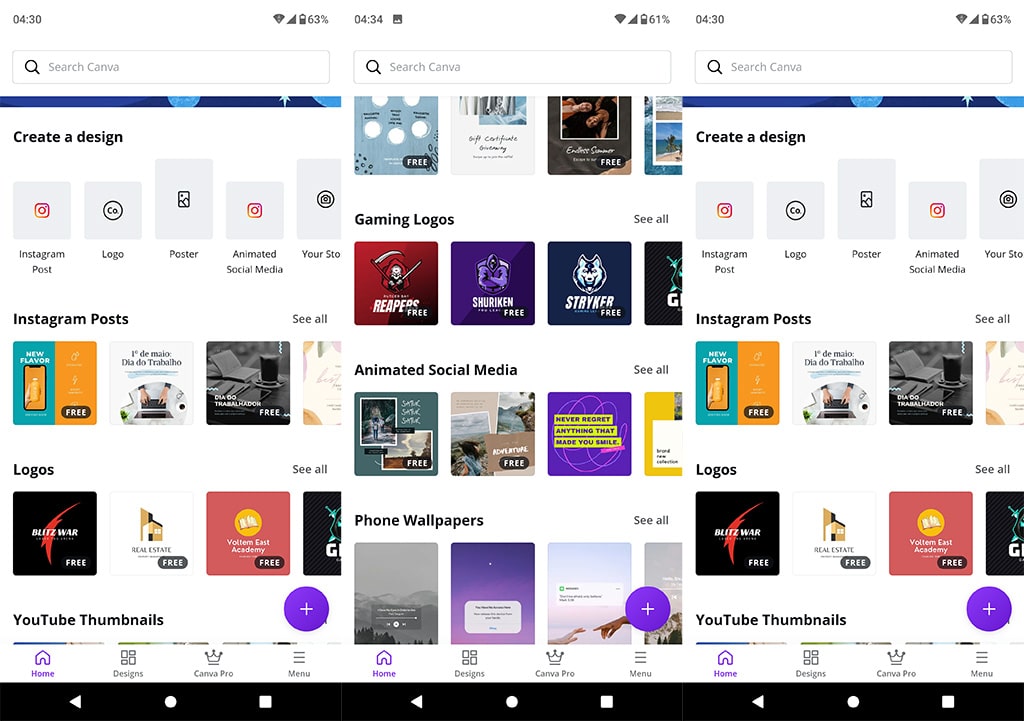 Some graphics are free to use whereas others you need to purchase. Free graphics consist of a large number of of variety. The sizes of the graphics are pre-defined which work perfectly for the target social media platform.
4. Quotes Creator
This app is simple and offers a user friendly interface. You can select from a variety of backgrounds which are suitable for quotes only. You can choose from a variety of font styles and shades. Additionally you can also add other images on top of your quote.
This app also provides a list of quotes which not other apps provide. So basically you can choose quotes right inside app and put them on background images. You can use images provided by the app, along the ones present in your smartphone. Furthermore, you can choose canvas size while adding image for background purpose.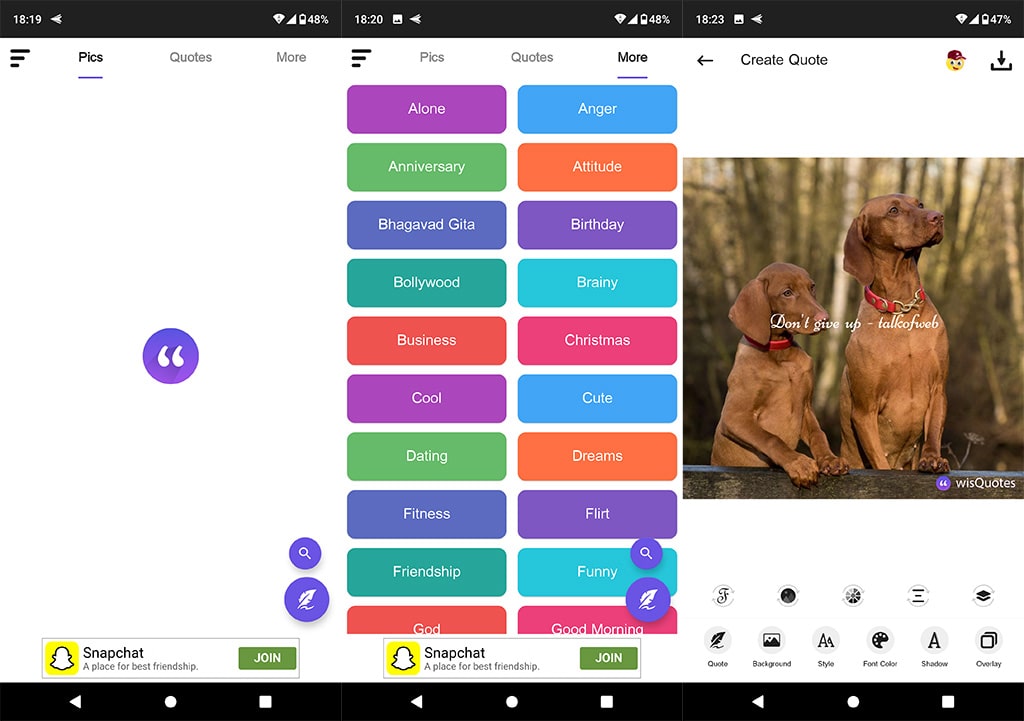 When compared with other quote maker apps, this application has a huge repository of fonts which you can choose from. A nice collection of fonts offers greater flexibility.
5. TextSwag
It's a cool typography generator with some awesome text styles. It allows you to create custom image size based on the social media, for example you can choose between instagram story, facebook cover or post.
The only con is that there are like 20 and more text styles, although each one is unique but still the quantity is less. Furthermore, additional text styles are locked. Still, it's a good addition if you want to try some additional text styles and background images.
Conclusion:
The above five apps are amazing when it comes to creating quotes right inside your smartphone and sharing them on the social media. You can design your quotes based on the message like choosing a custom background image, selecting a suitable font and then applying the right image size for it to become visible to your followers. Androids can do a lot and you should definitely use them in your daily routine.